Total Siyapaa (earlier titled Aman ki Asha) is a Hindi romantic comedy film directed by E. Nivas and written by writer of much-acclaimed films A Wednesday and Special 26 Neeraj Pandey.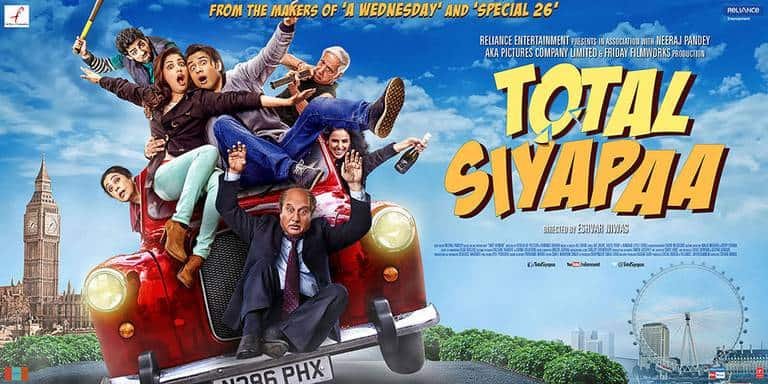 CAST AND CREW
Starring Ali Zafar, Yami Gautam
Directed by E.Nivas
Produced by Neeraj Pandey, Shital Bhatia
Music by Ali Zafar
Studio Friday Filmworks and AKA Pictures Company Ltd
Language Hindi
MOVIE TRAILER
---
Total Siyappa (2014) Movie Review
There is such velocity in the trailer and when Yami is doing a movie after so much introspection then its got to be some class. But, then movie is slow, boring at times and so predictable that you don't want to live on this planet anymore. The trailer is what the movie is. They gave it all and now the movie looks like a half cooked ass. There is an attempt to show national integration between Indians and Pakistanis but like Dhan Dhana Dhan Goal, the scenes just do not connect well, the comic scenes at times create an atmosphere where you would wait for a well timed punch but it comes too late putting you off to a snooze while the deadbeat music lacks soul. Borderline tensions are defused to the point until we see just the ludicrous futility of cultural bickering. It's a delicious idea to build a plot around. But, alas.
To know the story – Just watch the trailer. Please. (Saved me from writing this part of the review. AH! Finally something good the movie gave me. :P)
CAST & CREW
I can write so much about the cast and crew that you have to bring out your popcorns and scones. Yami Gautam is NOT AN UPCOMING ACTRESS. 3 reasons to sum that up – 1. She acts pro and fails. 2. She is wasted in the movie, except for a song where you will love her, all thanks to make up and setups. 3. She chose the wrong movie after the big gig with Khurrana.
Ali Zafar as the bewildered Pakistani boyfriend and Kirron Kher as his scattered mother-in-law-to-be project a prowling predatoriness to their scenes together. They are a delight to watch when thrown together. And they both have a done a good job, probably because Zafar was born a Pakistani and he knows his roots and because only Kirron can portray the overly-dramatic mother this well.
Anupam Kher needs to go back to his film academy and get taught. He is a talented actor but the screenplay failed him.The cinematography is not settled, the film tries to sell London as a tourist destination but Namaste London did a much better job at that. The direction is the fasad of all problems the movie has. Its blundered. All I loved was the story, which the trailer gave me to dream about and the chemistry which the lead actors have – Its cute. But, Zafar is cuter.
MUSIC
"Palat meri jaan" – Such an awesome song! Puts you in the zone for a laugh riot which sadly doesn't exist. Sanjoy Chowdhury's background score reminds us that no matter how hard the characters scream, the music needn't get aggressive in support.
VERDICT
'Total Siyappa' has its moments, no doubt, but it lacks the finesse and spunk to make it entertaining. Watch the movie if you always wanted to go for the movie (I was so excited. -__-) But, let it go for there are so many more options to indulge into. 300 ka sequel for instance! OR even Queen 😀
MOVIESDROP RATING: 2/5