You know what scares us the most and haunts our mind forever? Horror movies based on true stories? Found-footage horror movies? Horror movies inspired by serial killers? I may agree with all of these, but horror movies having dolls will scare the shit out of us. Dolls from horror movies have a lasting effect on our minds and they haunt us! After watching Dead Silence (2007) I started to research all the famous horror movies based on dolls and completed them one by one.
Creepiest Dolls From Horror Movies
In this article, we have mentioned some of the best scariest dolls from horror movies and they are arranged chronologically.
P.S. Well, if you look only at the dolls, it might not scare you so do watch the movie also.
1. Fat from "Magic" (1978)
Storyline: A ventriloquist is at the mercy of his vicious dummy while he tries to renew a romance with his high school sweetheart.
---
2. Clown from "Poltergeist" (1982)
Storyline: A family's home is haunted by a host of ghosts.
---
3. Chucky from "Child's Play" (1988)
Storyline: A single mother gives her son a beloved doll for his birthday, only to discover that it is possessed with the soul of a serial killer.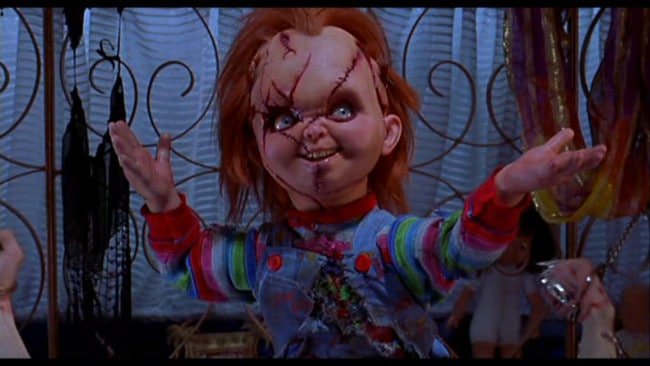 ---
4. Billy from "Saw" (2003)
Storyline: With a dead body lying between them, two men wake up in the secure lair of a serial killer who's been nicknamed "Jigsaw".
---
5. Billy from "Dead Silence" (2007)
Storyline: A widower returns to his hometown to search for answers to his wife's murder, which may be linked to the ghost of a murdered ventriloquist.
---
6. Annabelle Doll from "The Conjuring" (2013)
Storyline: Paranormal investigators Ed and Lorraine Warren work to help a family terrorized by a dark presence in their farmhouse.
---
7. Kimia from "Under the Shadow (2016)"
Storyline: As a mother and daughter struggle to cope with the terrors of the post-revolution, war-torn Tehran of the 1980s, a mysterious evil begins to haunt their home.
---
These are some of my favorite dolls from horror movies I love, if you have any other suggestions kindly let us know in the comments, we'll review that movie and update this list.