Asian horror films have a reputation for being truly unconventional with disturbing story lines, and Korea has a fair share of it. Here's a list of best Korean Horror movies curated for you which can guarantee you goose bumps and some sleepless nights!
Best Korean Horror Movies Of All Time (List)
1. 301/302 (1995) | "301, 302"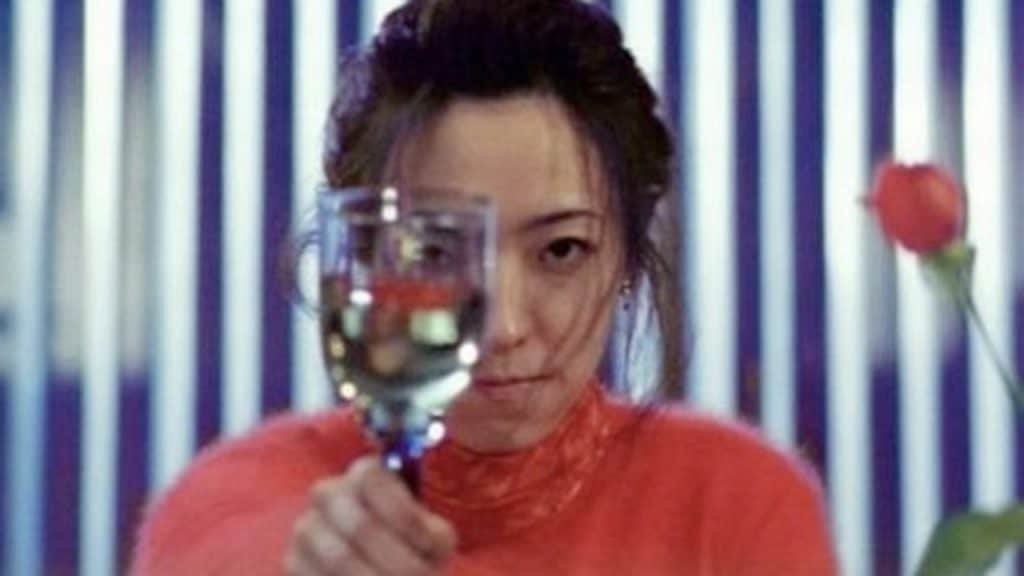 Two neighbors, Song-Hee, and Yun-hee, both with a troubled past. Song-hee is a chef and Yun-hee is an anorexic writer. Looking at her condition, Song-hee starts making food for her. An initial helping gesture turns out to be tormenting for Yun-hee, and it takes a weird turn when Song-hee starts forcing the food into her mouth. Two lives, showing how a person can change by living in isolation. And a worthy watch too, thanks to its submission for Academy awards.
---
2. Whispering Corridors (1998) | Yeogo goedam
Whispering Corridors is series of movies depicting the existence of Ghosts in our lives. The first movie is about a teenager who dies in her school. She comes backs as a ghost and asks her friend to help her find who killed her. Both the friends then start their investigation, and what they come across leaves them to spell bounded.
---
3. Ring (1999)
When her niece is found dead along with her three friends after watching a cursed videotape, Reporter Reiko sets on to investigate the secret behind their murder. She takes the tape and watches it and gets a call after half an hour. Someone says that she will die in one week. Determined to solve the mystery behind the case, she gets on to get to the bottom and history of the tape and go back to a murder which could have avoided all other future ones.
---
4. Memento Mori (1999) | Yeogo goedam II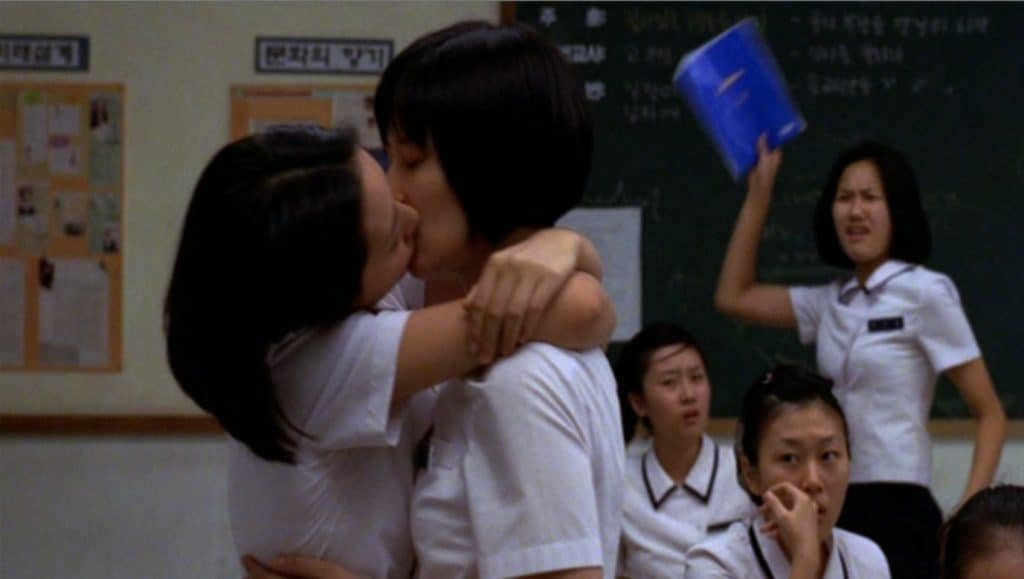 One of the first Korean movies depicting lesbian relationship, Memento Mori is a story about two high school girls romantically involved. Yoo Shi-eun and Min Hyo-shin's relationship is the talk of their school. But their relationship succumbs to social pressure which makes Shi-Eun distance herself from the clingy Hyo-Shin. Hyo-shin reacts poorly to the incident and commits suicide. But then her ghost prevails in the high school, taking revenge from each and everyone who did not appreciate their relationship.
---
5. Phone (2002) | Pon
A disturbing love story about possessions and ghosts, Phone is a story about a Journalist who is investigating a series of pedophilia incidents. She is successful in removing the mask of people involved but lands up getting threatened by various hoodlums. To get some peace back in her life, she changes her phone number. Her close friend also moves into her empty room with her husband and adopted a daughter. But one day the daughter picks up her phone and only hears a scream, a scream that leaves an effect on her which no one can explain.
---
6. A Tale of Two Sisters (2003) | Janghwa, Hongryeon
With an equally good American remake- The Uninvited, A Tale of Two Sisters is a twisted tale of love and dementia between two sisters. Su-mi returns to her home after a stint in a mental institution, but things have changed around the house. Her father has re-married and the only thing constant is her sister, Su-Yeon. They both resent the new woman in their life. While trying to carry on with their regular lives, some strange things start to happen around the house which leads to surprising revelations and shocking conclusion.
---
7. Into the Mirror (2003) | Geoul sokeuro
Wu-Young is an ex-detective now works in a humungous shopping center, which has re-opened, after being previously destroyed from a fire. But before the day of re-opening, some strange murders start to happen at the time. His detective instincts take over; Wu-Young starts handling the investigation, where he realizes that a ghost use mirrors as a gateway to the living world.
---
8. R Point (2004) | Arpointeu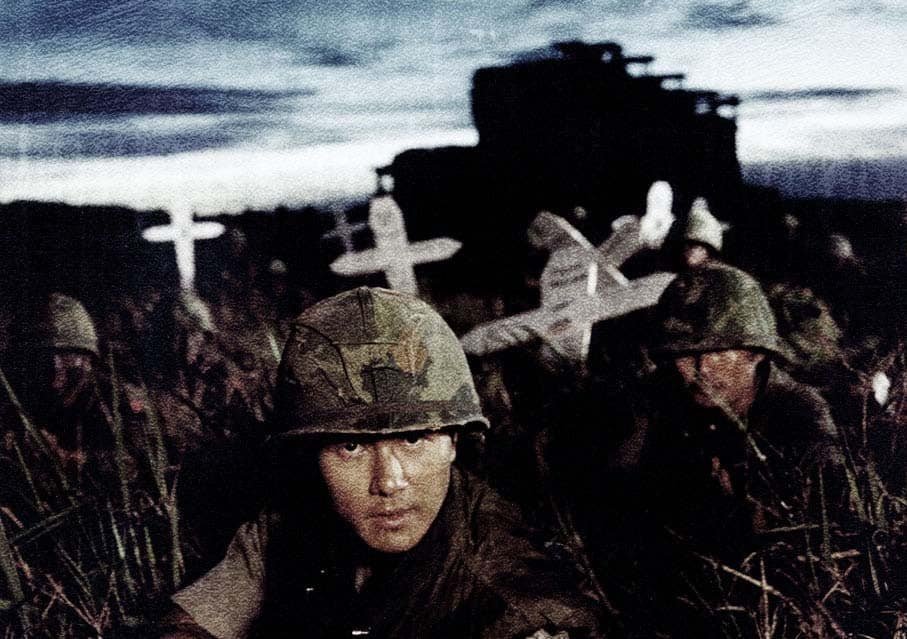 A Korean soldier's platoon gets a distress call from a jungle. They set off to save anyone who is stuck in unnatural conditions, only to be face to face with a curse which claims everyone.
---
9. Three… Extremes (2004) | Saam gaang yi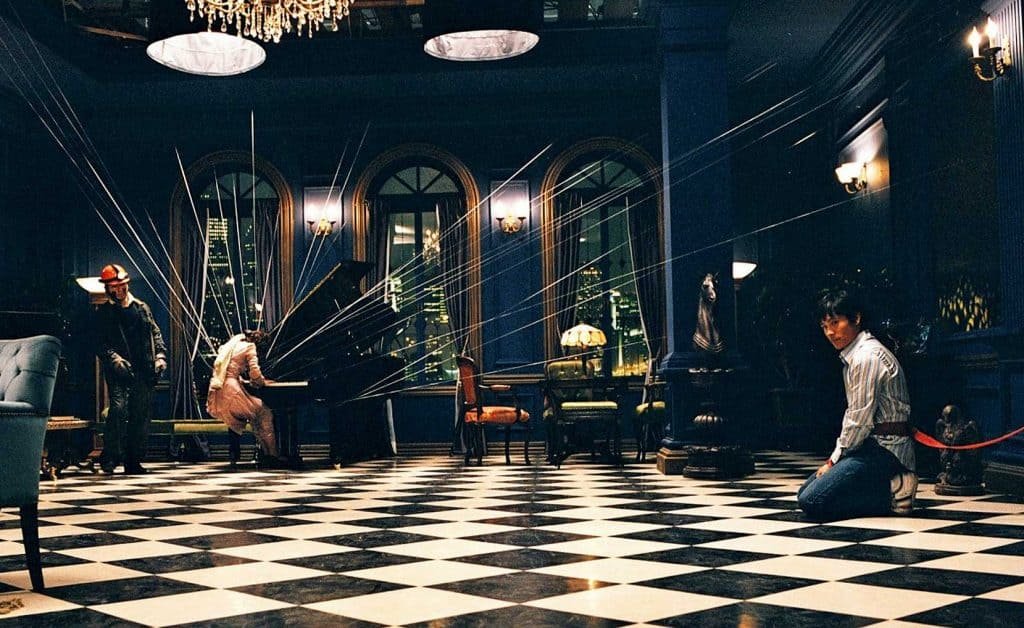 First let me explain the concept of the omnibus in films. Omnibus is a compilation of short movies which revolve around the same theme, may even relate to each other. Three Extremes is one such movie which is a collection of three short films; Dumplings: An aging actress wants to make her beauty immortal. She finds a woman who makes dumplings and uses regenerative powers. However, they contain a gruesome secret ingredient. Cut: A film producer and his wife are kidnapped by an Extra, who works at their film set. Now the director has to play his vile game, otherwise, his wife's fingers will be chopped off every minute. Box: A young woman has a recurring dream; she is buried in a box in snow. Searching for her sister, she realizes that her dream and reality might be connected.
---
10. Acacia (2003) | Akasia
Do-il and his wife, Mi-sook want to have a child of their own but are not able to conceive for a very long time. Finally giving into the destiny, they decide to adopt a six-year-old, Jin0Seong and bring him to their home. The young orphan is quite and only paints eerie pictures. But then one fine day, Mi-Sook becomes pregnant, which sets forth a string of supernatural events.
---
11. Wishing Stairs (2003) | Yeogo goedam 3: Yeowoo gyedan
Jin Seong is a high school student and an aspiring ballerina who wants get into world renowned art academy. To improve her chances into getting in, she works on a high school legend. If a student walks up the dormitory staircase and counts all 28 steps, a 29th Step appears. You can ask for any wish which will be granted. But then, her friend suffers a horrible accident; Jin Seong realizes that some wishes should never come true.
---
12. Ouija Board (2004) | Bunshinsaba
A movie using Ouija Board, now that's some horror movie. Moving from Seoul to a small town, Yoo-jin is being tormented at her new school. To take revenge, she joins two other outcast friends and uses Ouija Board to cast a spell on the four biggest tormentors. She releases vengeful spirits of a mother-daughter, who were killed by the townsfolk 30 years ago. Once everyone gets to know the truth by witnessing the murder of Yoo-Jin's tormentors, the townsfolk turn against her and get into the task of sending back spirits to their world.
---
13. Spider Forest (2004) | Geomi sup
TV Producer Kang Min wakes up in a forest and doesn't know how he got there, What's more, shocking is that he discovers his girlfriend slowly dying, along with a murdered body of a stranger. By pursuing a suspect, he gets into a car accident and wakes up in the hospital. There, he explains his situation to a friend-detective Choi, but soon, Kang becomes the lead suspect.
---
14. Dead Friend (2004) | Ryeong
An industrious student is suffering from amnesia but tries to live a normal life as much as she can. Her memory slowly comes back, and she gets to know that some of her friends have mysteriously drowned. She begins piecing together her past, revealing dark memories of the pact that was long made, which made her go through memory loss. She starts working on the puzzle so that no one else meets an ill fate.
---
15. The Red Shoes (2005) | Bunhongsin
Vicky Page, a world renowned ballerina in the making is torn between her dedication towards dance and her desire to love. She is being instructed by her instructor to make dance her life and priority over anything else. But she gets romantically involved with a young Composer Julian. Under great emotional stress, she now needs to choose between her career and love.
---
16. Antarctic Journal (2005) | Namgeuk-ilgi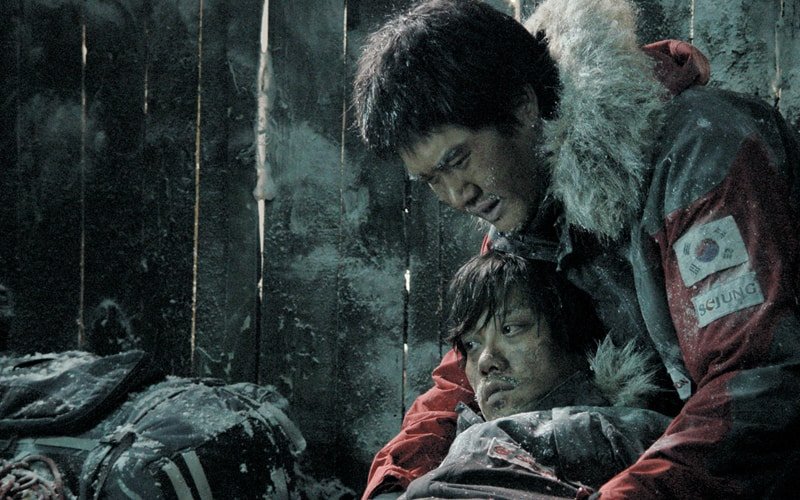 During their expedition to Antarctic, Captain Choi-Hun-Dyung comes across a frozen journal in the snow. He passes the journal to Kim-Min-Jae to read and decode. But as they keep moving forward, they realize that there is no going back. And the treacherous events mentioned in the journal keep on happening in a series, one by one taking its toll on the team.
---
17. Voice (2005) | Yeogo goedam 4: Moksori
Young-eon, a top singer at her elementary school is murdered by music sheets while practicing her music. As bizarre as it sounds, no one can hear her or see her except her friend Seon-min. After Young-eon convinces her that something large is at play, both the friends get on the task to discover what exactly happened to Young-eon.
---
18. Cello (2005) | Chello hongmijoo ilga salinsagan
At one instance, a gifted cellist is playing a soulful tune. In the other instance, a woman is dying on the operation table. The cellist has recently survived a freak car accident and is recovering from it. But the dead woman's soul disrupts her recovery. What could be the reason for such a hindrance? Were the two lives connected in the past?
---
19. Arang (2006)
A salt storehouse near the sea which is haunted and an ex-con dying a gruesome death over there. The case is transferred to two cops, Min and Lee. After doing initial investigations, Min starts getting dreams about a dead girl. She and Lee work together well, but two more deaths occur at the salt house. But, why only at the salt house? Maybe a murder ten years ago is the answer to all their questions.
---
20. To Sir with Love (2006) | Seuseung-ui eunhye
A reunion resulting in mass murder, To sir with love, is a story about a meeting, organized by a teacher, Ms. Park, and her loyal servant. A reunion so that Ms.Park could feel a little better about her old age and chronic illness, students who could pour their heart out in front of their teacher. But what poured our remains a mystery, love, respect or hatred which concluded a peaceful reunion into a mass murder?
---
21. Sin-de-rel-la (2006) | Cinderella
After her father's death, Hyun-Soo lives with her mother Yoon-Hee, who is a plastic surgeon. Slowly and gradually, Hyun-Soo's friends start getting face upliftments, nip, and tuck here and there for that perfect body performed by her mother only. But a sudden phenomenon makes them see ghosts and creates an urge in them to mutilate themselves. When her friends start to die, Hyun-Soo starts investigating her mother's treacherous past to reveal the truth behind such phenomenon.
---
22. 29 February (2006) | 2 wol 29 il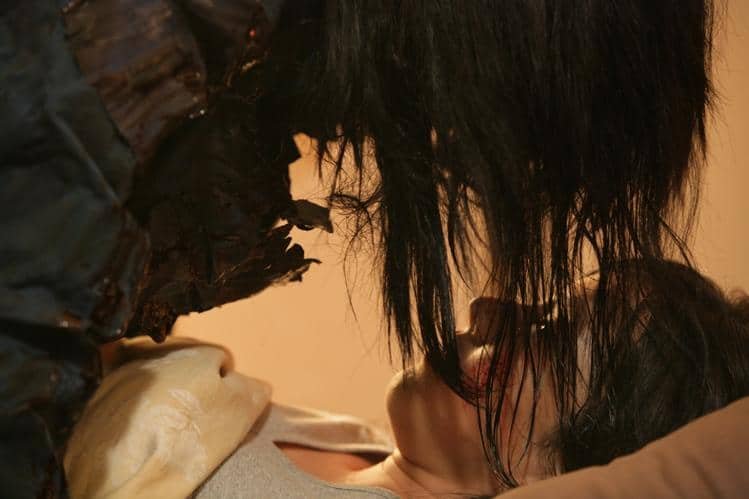 A toll booth attendant Park Eun is terrified of a curse which is on her station, known as the Leap Day Curse. Since a fatal accident occurred on the date of 29th February, leap day curse has struck her station three times.
---
23. The Host (2006) | Gwoemul
A movie was showing the bio-hazard incident in a horrific manner. American Military personnel keep on dumping chemicals into South Korea's Han River. A few years later, a creature emerges from the waters, creating havoc, destruction and eating residents. When their daughter is kidnapped, they realize that only they can save her now.
---
24. Henjel gwa Geuretel (2007) | Hansel and Gretel
Eun-Soo, a salesman, goes on a drive with her 4-week pregnant fiancé, discussing that he needs to move as his mother is not feeling well. The drive turns into a fight which in turn distracts Eun-soo, resulting in a car accident. When he wakes up, he realizes that he is in a forest. He meets a woman who leads him into a cabin, where he finds inhabitants who never age.
---
25. Epitaph (2007) | Gidam
South Korean Hospital is famous for its dead people, now roaming around in corridors as Ghosts. A traumatized girl sees a vision of her dead mother, who is trying to tell her something which can help her in solving the mystery.
---
26. Blood Pledge (2009) | Yeogo goedam 5 – Dong-ban-ja-sal
Four friends, Eon-Joo, So-Hee, Yoo-jin, and Eun-young, always together, who pledge to die together as well at one night at their school. Even for some reason, they are not able to; they will still keep their commitment. But only Eon-Joo dies and leaves two witnesses behind; her sister who saw her jump and one of her friends. But why only one of them died? And what was the secret she was keeping that made her jump to her suicide, not waiting for others to complete the pledge?
---
27. Possessed (2009) | Bulshinjiok
A college student Hee Jinn returns home when she gets to knows that her fourteen-year-old sister is missing. Her mother, a fanatic church goer resorts to praying and doesn't want to collaborate with police forces. Meanwhile, Hee Jinn's dead neighbor leaves a will for her sister, which complicates the situation even more.
---
28. Thirst (2009) | Bakjwi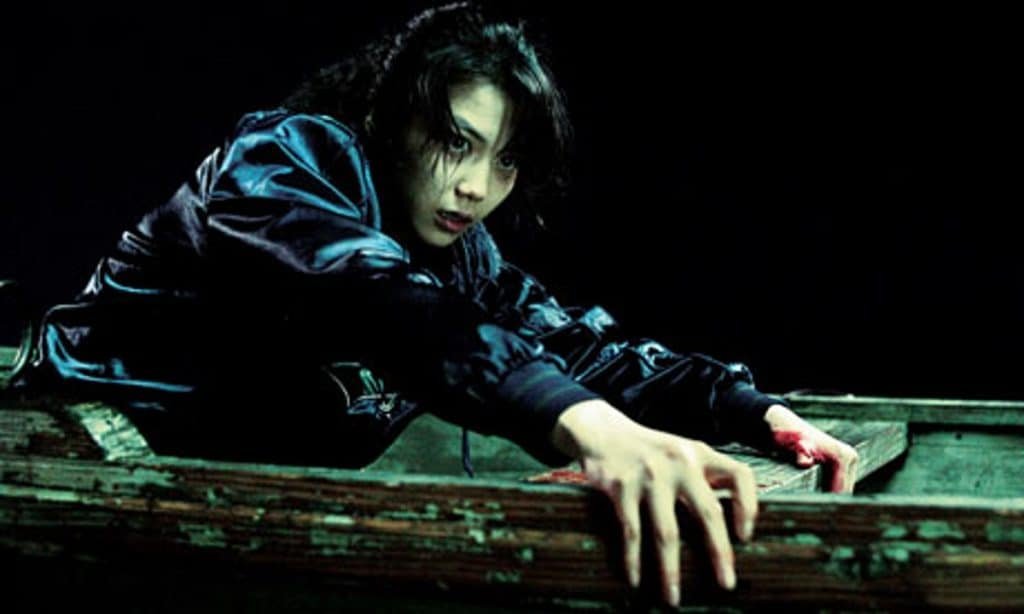 Sang Hyun- a respected priest nominates himself for human trials of a drug that can cure a dangerous virus. During the procedure, circumstances lead him to his death. But then, he starts coming back to his life as a vampire, thanks to some biological glitch. And now, the priest is torn between two worlds, faith, and bloodlust for his friend's wife.
---
29. I Saw the Devil (2010) | Ang-ma-reul bo-at-da
Shockingly violent and stunningly accomplished movie, I Saw The Devil is a story about a murderer, who is caught once but then let lose. Taxi driver Kyung-Chul comes across a biker girl stranded on the road with a broken down vehicle. He pulls over, only not to help her. When local news is bombarded with a stranded female head found near a river, the fiancé Kim-Soohyeon sets out to locate the culprit. He is successful in finding Kyung-Chul, brutally beats him up but apparently let him go. What might seem a mercy act turns out to be the most horrifying game of cat and mouse!
---
30. Bestseller (2010) | Be-seu-teu-sel-leo
Hee-soon, a writer shifts to a small town after being involved in a plagiarism scandal. One day, she comes across a mysterious figure who tells horrifying stories of murders. She compiles a novel based on those stories and the books turn out to be a bestseller. But then, she gets to know that the same book has been published 10 years ago! To get to the bottom of the truth, Hee-Soon starts on a hunt to find the mystery storyteller again.
---
31. Killer Toon (2013) | Deo web-toon: Ye-go sal-in
When your talent becomes your worst nightmare, how do you survive? A comic Artist is forced into turmoil when she becomes a suspect in two gruesome murders. The proof? Her paintings of both the crime scenes made down to the last detail.
---
I'm sure this list could be expanded with some more movies, but these are our favorite ones, if you think your favorite Korean Horror movies/films are missing, do kindly let us know in the comments below, we'll add them to this list.