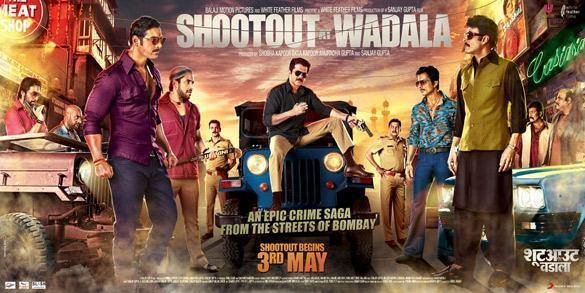 Facebook and newspapers and gossip buddies – everyone was waiting for this one to strike! Like a fan who loves action but not a fan of Bollywood action as such, I went… believing it to be like Gangs of Wasseypur or fearing it to turn out like Zila Ghaziabad. But this one is different with a new calibre to shoot and watch out for.
STARRING
Shootout at Wadala (2013) (IMDb | Wikipedia) : OVERVIEW
Shootout at Wadala is a 2013 Bollywood action crime drama film written and directed by Sanjay Gupta. It is the sequel to the 2007 film Shootout at Lokhandwala, and is based on the book Dongri to Dubai. The film features John Abraham, Kangna Ranaut, Anil Kapoor, Tusshar Kapoor, and Sonu Sood in lead roles.
MOVIE TRAILER
---
EXCLUSIVE REVIEW
STORY
Manohar aka Manya Surve (John Abraham) who is the good turned bad bad hero, who believes in crook more than hook. After being sent to jail for a crime that he didn't commit, Manohar decides to become the kingpin of the Mumbai underworld along with a trustworthy aide Sheikh Munir (Tusshar Kapoor), and with Vidya (Kangana Ranaut), the love of his life by his side. The Mumbai Police, headed by ACP Afaaque Bhagraan (Anil Kapoor) had enough and they plan an encounter for the famous Manohar. Sanjay Gupta's story, with snippets from S.Hussain Zaidi's 'Dongri to Dubai: Six Decades of the Mumbai Mafia', contemplates the underworld with old same passion and fear, nothing new there but the story is grasping and gripping.
PERFORMANCE
Anil Kapoor is like a babeque! Lively and smoking hot as the dedicated ACP. Manoj Bajpayee is spectacular in the little time that he appears on screen and don't ask me what he does there.. 😉
Kangna Ranaut, my favourite heroine is fresh as the summer mango. And John, well, after his breakup with Bipasha, he did rise as an actor. And here he shows his bad boy act with some awesome Casanova charm. Tusshar Kapoor, Siddhant Kapoor, Ronit Roy and Mahesh Majrekar have done a commendable job. Sonu Sood takes the cake away. The cake, the bake and the bakery!
MUSIC
'Laila' grooves at the best time ever. 'Babli badmaash' and 'Manya ala' are the two other item songs in the film which just fulfill a straw with some more air. Sunny Leone's cameo is decent enough. 'Yeh junoon' is a croon-worthy, pleasant number.
The sepia tinted shots here and there are so refreshing. I loved the way everybody throws lines at each other. It's like bullshit bickering with a shot of vodka and yet you make sense. I was disappointed with the direction. We expected less raw violence and more sensibleness. Somewhere, the actors come off as snobs. The background score is quite an addition to the scenes. I don't think this awesome cast did anything for the movie, Sanjay could have carried on a group of fledgling well too, if not for the aura these characters bring to the movie.
VERDICT
Nothing to match up to shoot out at Lokhandwala except the bhaigiri and the charisma (what else did you need to compare!) but it has its own 'kaante' moments and lots of mindless gore. They have to some extent resurrected Manya surve. So, go on a free day for this and enjoy the dhisoom dhisoom with bosoms and bombs.