The greatest innovations that have taken place and done the world a greater world arose out of compassion. Arunachalam Muruganantham is a compassionate man who wears his heart on his sleeve. He takes pride on his upbringing, indulges in self-deprecatory humor to explain his humiliating ordeals during his obsession with spreading awareness on menstrual hygiene and providing low-cost sanitary napkins. In the process of revolutionizing the manufacturing process of sanitary napkins, he was thoughtful and broad-minded to create employment opportunities for the rural women and did not want to commercialize it that would add no greater good excepting adding fuel to further his selfish interests.
Padman (2018) Review
Padman manages to avoid making a caricature of a real hero.
It is, therefore, not a surprise as to why the story of Arunachalam Muruganantham, a social entrepreneur from Coimbatore appeals to filmmakers. Cinema, as an art form, has a far greater reach than any other medium. Bollywood, among Indian film industries, enjoys a larger audience owing to Hindi as a language is widely spoken. But here lies the problem. Bollywood borrows the story and constructs the story in its image. This film will make crores and will make people recognize the real hero but the way it treats its hero does not do justice and manages to just avoid making him a caricature.
The film is based on the short story "The Sanitary Man of Sacred Land" by Twinkle Khanna. Lakshmikant Chauhan (Akshay Kumar) plays a factory worker, married to his wife Gayatri (Radhika Apte) and living a contented life. Things change when he realizes what his wife and other women go through to keep their menstrual cycles a secret. Lakshmi strives hard to make a sanitary pad that would effectively work but struggles to understand the mechanism behind it. His noble intentions are misunderstood. The women do not seem to understand his obsession with 'women's body issues'. From the neighbors to elders and family, everyone slowly distances themselves from him.
Amit Trivedi's music shines brighter than Balki's visuals.
The problems of Balki arise when Lakshmi goes on a journey to understand the mechanism of sanitary napkin leading to taking a temporary job as a personal caretaker to a college professor. The professor's son makes him understand the foreign company from where he could procure his raw materials through Google while the man schools Lakshmi that he needs the machine to produce instead of indulging in big talk. While I can understand the hardships Arunachalam may have gone through, here they come off as forced and irks the audience as to how much the man is reduced to rather than coming off as natural obstacles he had to overcome in life.
Amit Trivedi seems to understand the story better than Balki as he lets the music follow the footsteps of Lakshmi. Balki thankfully provides the best visuals to his songs as he shows how the story of Lakshmi perseveres and progresses towards his goal through montages. Sonam Kapoor, as Pari, comes as the angel to help him realize his dreams. Things would have great if she remained just that but Balki forcefully creates a romantic subplot that makes you cringe. It does a disservice to both the characters. Pari is a chirpy girl who wanted to help the ambitious man towards realizing his dream. Lakshmi is a righteous man who has not thought beyond his wife even though they are temporarily separated. I simply cannot understand with Balki's need to coerce his idea to create an unwanted tension through a romantic subplot that takes your focus on his struggle for a while. Is this not a tribute to a hero? Does a woman crave to be with a man who has attained success? Can a man and a woman not remain in a healthy professional relationship? Balki and Bollywood filmmakers would do well to understand and appreciate the collective intelligence of the audience.
Lakshmi's English
While I would still prefer an actor like Irrfan Khan or Manoj Bajpayee to play the role in order to add credence to the character, Akshay Kumar manages to do justice to the role save for the UN speech at its end. If you have watched Arunachalam's talks, you would instantly respect his self-taught English as he does not pretend and shows that even his English shows his determination to overcome a defeatist mindset. Akshay Kumar's English comes with a sense of awareness and his talk, therefore, comes off as an ordeal to watch. It does not convince you but merely emphasizes on the limitations of a Bollywood Star.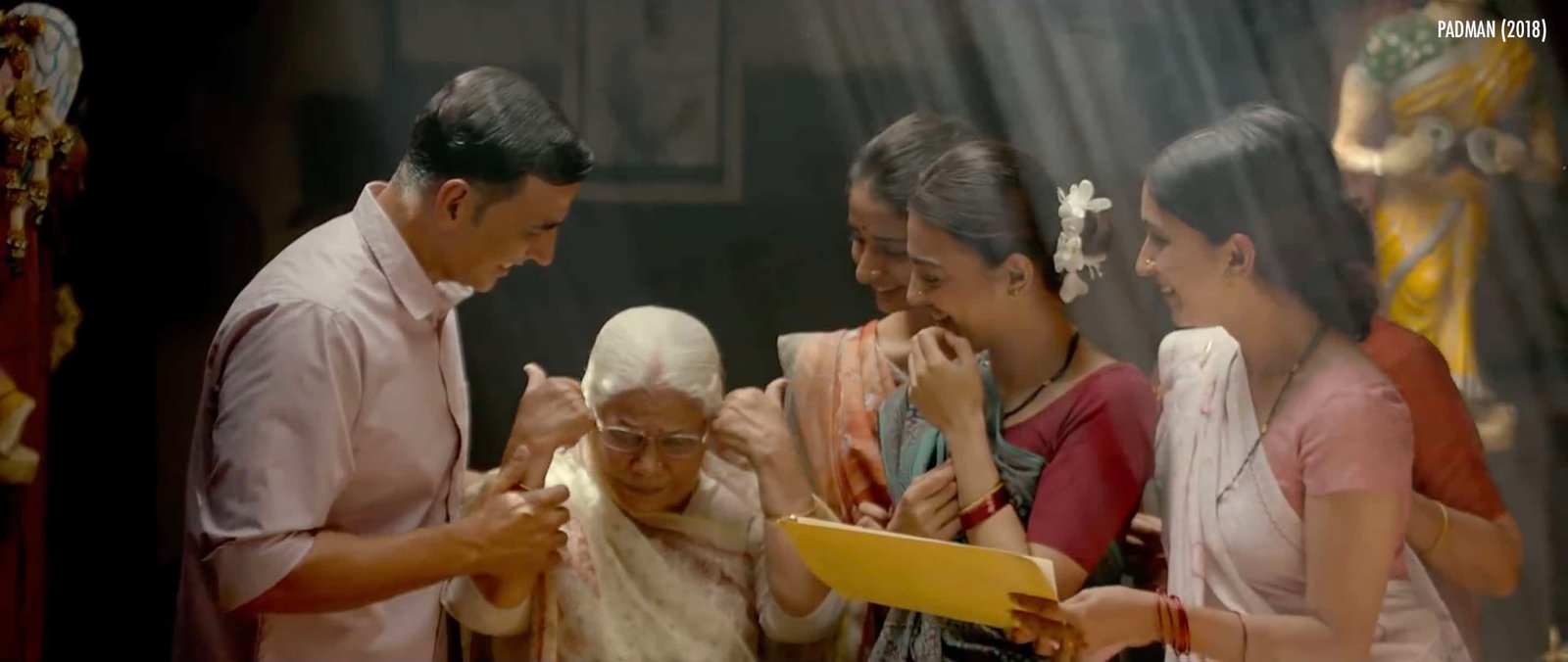 Here is a Bollywood film that hijacks the story of a hero from Tamil Nadu, changing the region and the man's identity to make it glossier and acceptable for the multiplex urban crowds. Balki, largely to the story, manages to just avoid being dismissed LBW!