When the movie ends, a question remains unanswered. Which genre does this film fit into? It is a black comedy for a major portion of the film and then, the riveting climax makes your mind contemplate on life and death. Mysskin's films, except Mugamoodi and Thupparivaalan, have been largely about internal dialogues with a conscience. Savarakathi, while largely not being that, still ends with that internal inquiry we indulge in times of solitude. It is a peculiar film. It is a Mysskin film. This film is directed by Adithya but it has Mysskin written all over it.
Savarakathi (2018) Review
Quirky characters!
Pichai (Ram) plays a barber, who holds on to his savarakathi (straight razor). An amusing raconteur, he makes up stories, not with a purpose to lie or deceive but more as a natural extension of his character in the same way savarakathi happens to be an extended limb. Questioned about using an old tool to shave, he narrates the history of his generation that goes back to the times of Akbar! You can be sure he is bluffing but you will just not admit to it owing to an apprehension of an unwanted scuffle.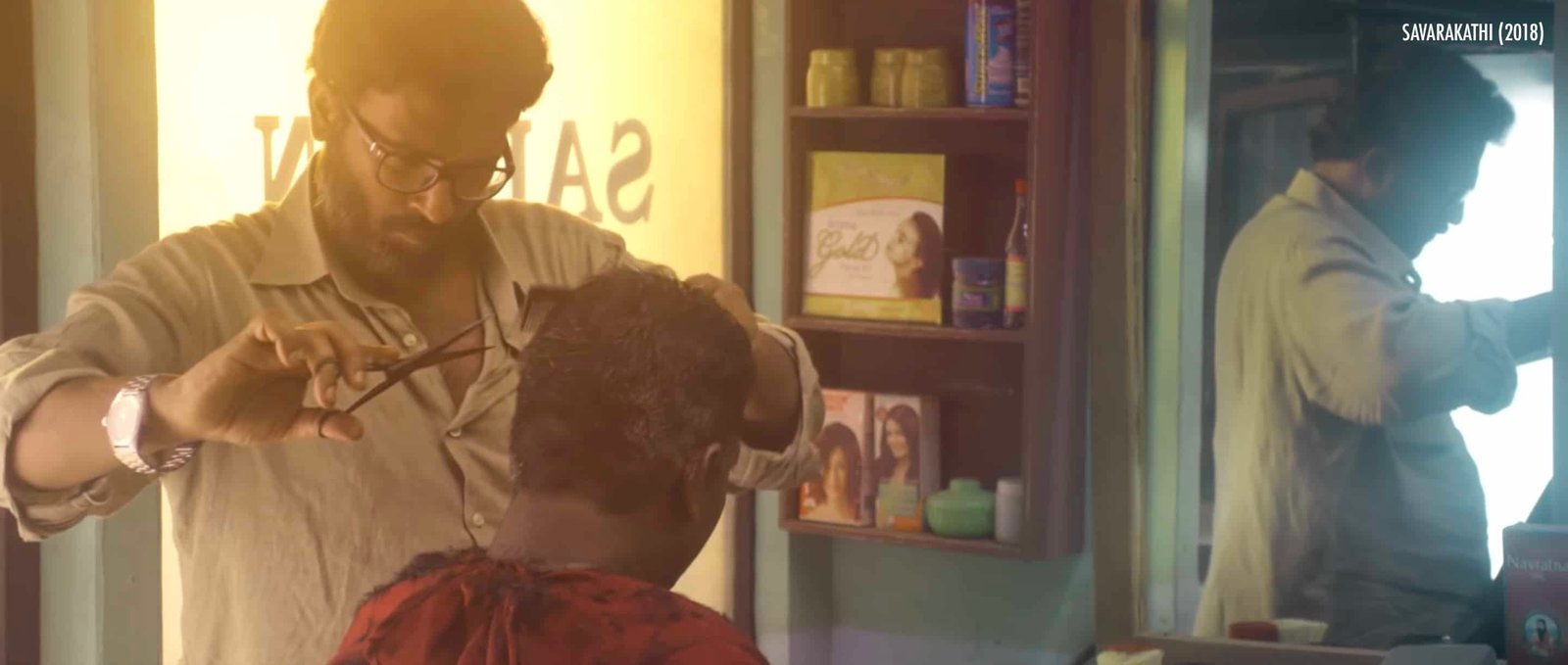 Mangeswaran/Mangaa (Mysskin) is an eccentric gangster whose mood swings are tough to gauge. He is surrounded by men who mainly intend to be the brooding bad guys but their attempt clearly betray their ambitions and they all turn out to be a team of clowns who merely attempt to satisfy their leader in order to be saved from his whiplashes. It is not surprising then that their dresses clearly speak of their nature. Pichai is dressed in a shabby off-white shirt that is neither too gray nor too white to show his moral ambiguity. Mangaa is in black to show his evil nature while his wise counsel, the man who brought him up, is dressed in gray. Mangaa's men are dressed in different shades that lack the uniformity of the 'bad guy's dress code'.
A comedy of errors…
Savarakathi takes its time to take hold of you. The comedy in the initial sequences falls flat trying hard to provoke laughter. While the writing overall seems to be terrific, the same does not play out effectively on screen throughout. Subathra (Poorna) is the hearing impaired wife of Pichai who pesters and makes her husband attend the wedding of her brother. The situational jokes involving her hearing impairment soon grow stale. Their two children wisely act as the bridge between their parents. On Mangaa's side, there is a scene at a cafe involving a married woman clad in a yellow saree which could have been totally scrapped off as it adds no value to the story at large except for establishing tiresomely yet again that this is a Mysskin film. Once Pichai and Mangaa cross paths with the former entering into an unwanted scuffle at a traffic signal, the movie takes a hilarious turn.
Mangaa is determined to finish off Pichai. There is a catastrophe approaching Pichai's brother-in-law. The parents of the girl Subathra's brother is in love with are hellbent on taking their daughter away from the guy who has eloped with her. Mangaa's efforts to reach Pichai initially are futile attempts but provoke laughter on and off. A temple is searched with couples being intruded ludicrously, mechanics side with Police to latch on to Pichai even as he escapes right in front of their helpless eyes, a pressure cooker moment unfolds at a roadside cane juice stall before reaching its hilarious end followed by a false pregnancy alarm leads to a hilarious escape at a hospital that ends up with Subathra and her kids nearly getting killed by an oncoming vehicle that has the parents of the girl her brother is in love with. It gets zanier as things unfold in the second half.
As if to accentuate the insanity level, there is a sequence involving Pichai hiding in a dustbin even as a rag-picker interested in anything but the man followed by Pichai being locked up in a van to be treated for mental health care. The performances by Ram and Mysskin are top notch with Ram especially holding your attention with his mannerisms. Arrol Correlli's strings-based score works brilliantly and his background scores are becoming a signature of Mysskin movies.
Knife – is it a tool or a weapon?
The zany ride takes a turn towards the Mysskin's familiar territory of moral quest and spiritual inquiry over a sequence played out in a rundown factory where a fight happens side-by-side with the birth of a child. This abrupt turn does not come as preachy and is rather organic leaving you in awe. The knife, in the hands of a surgeon, is a tool that heals and gives life. The knife, in the hands of a murderer, is a weapon that destroys life and stains humanity. When possessed with it, who would you like to be? This is a question you may not have expected to think about when the movie begins. But this is Mysskin. He does not want you to go without filling your head with something to mull over and it is worthwhile.