Let's talk about the Guinness World Record holder in 2012 for the highest paid actor with $75 million: Johnny Depp. While you may know him for his quirky roles and numerous partnerships with Tim Burton, here are a few lesser known facts about the multi-talented man. Want to learn more about him? Below we shared some unknown interesting Johnny Depp Facts,
Interesting Johnny Depp Facts
1. Depp started out as a Musician
Johnny Depp is already famous for being a guitar player but did you know that he also plays the drums? He has played with various famous bands on stage and for their albums too including Alice Cooper, Marilyn Manson, etc. He also had his band named "P" which included other well-known names like the Red Hot Chili Peppers bassist Flea and Sex Pistols guitarist Steve Jones.
Starting out with the guitar his mother gifted him at age 12, he joined various garage bands, and his love of music led him to leave high school, and when he attempted to go back, the principal told him to pursue his dream of being a musician.
As a youngster, he led a rough life, living for months in a friend's '67 Chevy Impala and selling pens for a telemarketing firm with his band mates to be able to scrape a living.
---
2. Nicolas Cage advised him to try acting
His then wife Lori Anne Allison introduced him to Nicolas Cage, the man who advised him to try acting. This led him to take on various roles which shot him to fame, as the undercover cop Tommy Hanson in the popular TV series 21 Jump Street. This role made him a teen idol, an image very different from the various artist image he has now. We all know of his fateful meeting with Tim Burton with Edward Scissorhands which marks the beginning of his acting career as we know it.
Speaking of Tim Burton: Producer Scott Rudin once said "Basically Johnny Depp is playing Tim Burton in all his movies," which Depp seems to agree with even if Burton objected to the comment.
---
3. Johnny Depp was almost fired by Disney Executives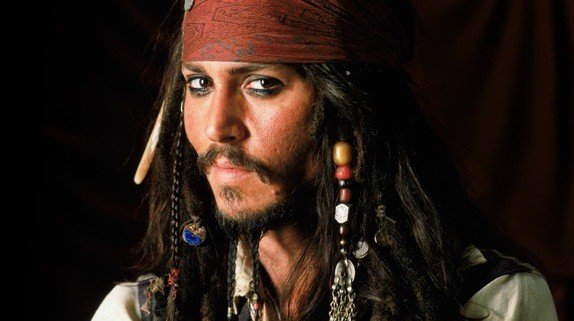 Most people would agree that Jack Sparrow is one of the most prominent roles of Johnny Depp. It's interesting to know though, that while shooting for the first film he was almost fired because the Disney executives couldn't understand his portrayal of the fictional pirate. Today, the franchise is one of Disney's biggest money makers and mainly due to the Captain!
One of Depp's inspirations for playing the character was Rolling Stones rocker Keith Richards who is one of Depp's idols. The two eventually ended up as father and son on the screen of the same movie! Read more about the relationship between these two icons in the next section.
---
4. He has his own Production Company
In 2004, Depp formed his own production company called Infinitum Nihil meaning "Nothing is forever," where he serves as CEO, actor and producer, while his sister, Christi Dembrowski, serves as president. The company's works include The Rum Diary (2011), Hugo (2011) directed by Martin Scorsese and Dark Shadows(2012), directed by Tim Burton.
Depp's filmmaking ventures don't end here: for four years, he's been wrapped up in making a documentary film about Keith Richards and recently announced that it is complete. According to Depp, most of this process involved the two hanging out and listening to Richard talk about his life, inspirations and sharing his stories. The two are good friends.
Depp will also collaborate with Pirates of the Caribbean: On Stranger Tides director Rob Marshall again to create a remake of The Thin Man, though the screenwriter Billy Ray of The Hunger Games fame calls it a "reimagination" rather than a remake. He's set to play Nick, and they're still searching for his Nora.
---
5. Foray into the publishing world
Johnny Depp recently teamed up with HarperCollins publishers to launch an imprint name after his company and signed a deal for a project called The Unravelled Tales of Bob Dylan, which will be based in part on interviews with the musician by best-selling historian Douglas Brinkley.
Depp is also a fan of the late writer Hunter S. Thompson and played Raoul Duke in Fear and Loathing in Las Vegas (1998), a film based on his novel of the same name. A movie adaption of another one of his novels, The Rum Diary was released in 2011 which also has Depp as the main character. While Thompson was alive, the two became fast friends and Depp personally financed his funeral in 2005 where they shot his ashes out of a cannon according to the writer's wishes.
---
6. He received high praise for his singing abilities
As Sweeney Todd, Depp demonstrated his singing abilities for which he received high praise from the entire film-going community. To prepare for the role, he would practice the songs while shooting for Pirates of the Caribbean: At World's End. He would record demos of his singing, and with the help of Bruce Witkin, he perfected his singing without a professional voice coach! His other talents include photography and swordsmanship.
---
7. Johnny Depp the Fossil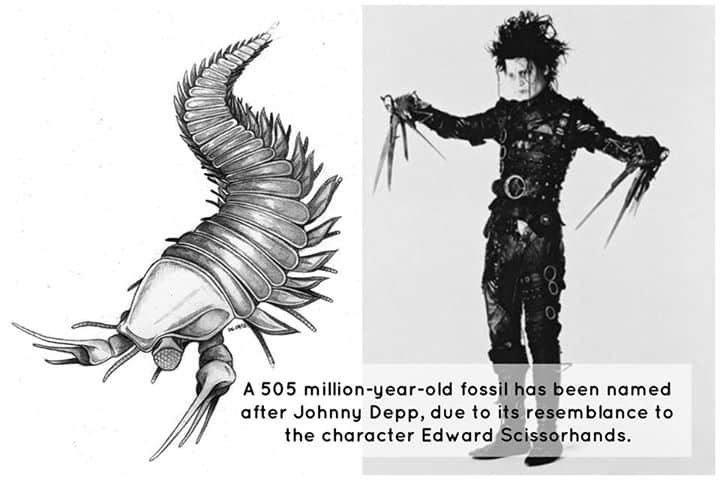 A British scientist David Legg found a 505 million-year-old fossil that reminded him of Edward Scissorhands. It had large scissor-like claws and could have been an ancestor of scorpions and lobsters. Being a fan of Depp, he decided to honor the actor by naming the fossil Kooteninchela deppi where the genus name, Kootenichela, includes the reference to this film, as 'chela' is Latin for claws or scissors and deppi for Depp!
---
8. Depp's "possibly the greatest memento"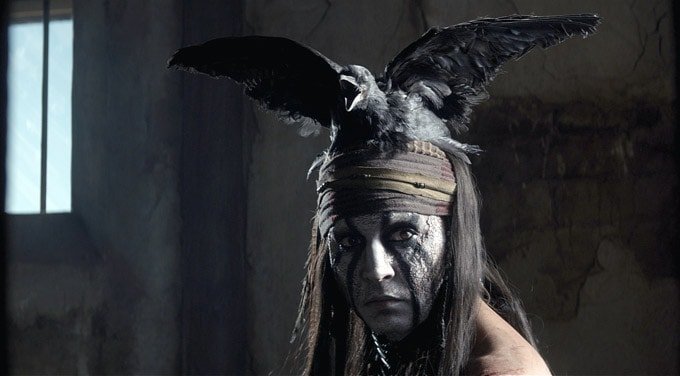 Johnny Depp's most recent film The Lone Ranger might have been caught in the eye of a storm of criticisms, but he was rewarded by the Comanche Nation leaders to be an honorary member of their tribe. He even participated in their parade, and they held a ceremony for his induction at the Albuquerque home of LaDonna Harris, a prominent Native American activist. Depp said that it was "possibly the greatest memento" he could have received.
Did you know that Depp is a descendant of Elizabeth Key Grinstead (b. 1630), a biracial woman, who was the first woman of African ancestry in the North American colonies to sue for her freedom from slavery and win? This was a part of research information published by Ancestry.com in 2013.
---
9. Quirky yet Down-to-earth
Johnny Depp would give strange names to his hotel stays like Mr. Stench and so in the movie Freddy's Dead: The Final Nightmare, Johnny was credited as Oprah Noodlemantra! His other quirks include watching cartoons with his kids. Maybe that is where he gets ideas for his versatile movie characters.
Once, he was almost mugged, but the mugger recognized him and said, "I ain't stealing from Captain Jack" and backed off. Depp gave him some money anyway.
Depp is also known to be a man of his promises. In one incident, Depp met a 12-year old boy named Jack Taylor in Wisconsin during filming. The actor promised him his hat which the boy said he liked and told him he would get it in the mail after filming finished. And he did! And not just the hat, Depp also sent him various Charlie and the Chocolate Factory paraphernalia along with a signed note that read "Here is a hat for you. Hope you like this and assorted fun bits."
By the way, though Depp plays the God of Chocolate in that movie, as a child, he was allergic to chocolate!
---
10. A Charitable Celebrity
Depp has two children, a daughter, and a son. In 2007, his daughter fell seriously ill with an E. Coli infection that caused her kidneys to shut down. She recovered at Great Ormond Street Hospital and so to thank them he visited the hospital later that year in full Captain Jack Sparrow attire and spent four hours there, reading stories to the children. Not only that, but the next year he also donated £1 million to the hospital!
When Heath Ledger passed away, leaving filming for The Imaginarium of Doctor Parnassus (2009) incomplete, Depp along with Jude Law and Colin Farrell played him in various shots and gave their salaries from the film to Ledger's daughter, Matilda.
Let's not forget to mention he's rich enough to own an ISLAND apart from having three homes. He also owns a vineyard in France and co-owned the French restaurant-bar Man Ray along with Sean Penn, John Malkovich, and Mick Hucknall, though a recent article stated that he's done with alcohol and has gone vegan. So much for all the fuss over rum.
He's also famous enough to be spotted rather easily despite being in so many different skins while being on screen. That's Johnny Depp for you, the man who was voted one of the 50 Most Beautiful People by People Magazine, not once but twice!
---
11. Shantaram
Russell Crowe was interested in adapting the famous 2003 novel Shantaram into a movie when it came out but it didn't fall through. Warner Bros. went with a $2 million bid after Johnny Depp's expressed his love for the book to studio executive Brad Grey. The bid for the rights was won and later Amitabh Bacchan was also added to the cast. Though the projects has hit many rough spots, a recent news article in the Mumbai Mirror reported that Warner Bros. negotiated to retain the film rights until 2015 which could mean that the film adaption hasn't been completely shelved.
---
12. Has never won an Oscar!
Johnny Depp is no doubt one of Hollywood's biggest icons with enough talent to make the world stare in awe. He's been nominated countless times for some Academy awards, BAFTA awards, Golden Globe Awards and Teen and People's Choice Awards. While he's won a whole lot of them, he's never won an Oscar in spite of being nominated for them thrice!
Before I end this article I sign off with a quote from Johnny Depp on his plans to retire from acting soon:
"When you add up the amount of dialogue that you say per year, and you realize that you've said written words more than you've had a chance to say your own words, you start thinking about that as an insane option for a human being."
Until next time, make sure to stock up on enough rum, savvy?