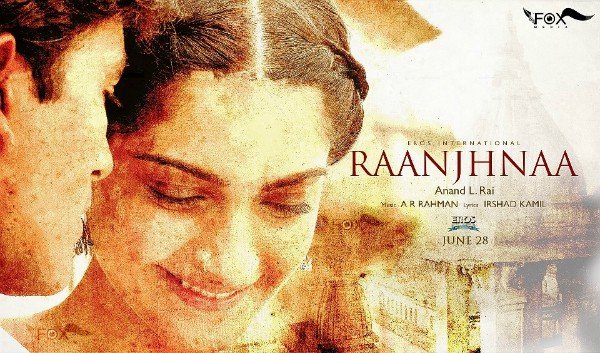 The way Sonam slaps his stalker and the way the movie deals with eves teasing as an important issue… is just so fresh a concept and crude, contemporary state of the art touch. A confident first half. A dull and weepy second half. I was stunned with the slow screenplay and the portrayal of a one in the million lover kind of Dhanush, who you wish was better played then by his childhood avatar, by the talented Naman Jain (Jangiya of Chiller Party).
[imdb id="tt2359810″]
Raanjhanaa (2013) (IMDb | Wikipedia) : OVERVIEW
Raanjhanaa is a 2013 Hindi romance film, directed by Anand L. Rai and written by Himanshu Sharma. The music of the film is composed by double Academy Award Winner, A. R. Rahman. The film is produced by Krishika Lulla under the banner Eros International. The film stars Tamil film actor Dhanush in his Bollywood debut and Sonam Kapoor in the lead roles.
MOVIE TRAILER
---
REVIEW
I went to watch this movie with lots of expectations and also for the unusual but one of the kinds pairing of the Tamilian heartthrob Dhanush and the pretty lass Sonam. Well, what did I take back home? A love story which I had heard and which I might have read. I saw it today but it wasn't that exhilarating as they climaxed in promos!
STORY
Dhanush (Kundan) is shown to cross all boundaries to be noticed by Sonam Kapoor (Zoya). He follows her. Stalks her. Approaches and fails, like million times in his heart as well as his mind. He dreams about her. Notices her more than himself. All in the city of sutta- Banaras. Then there are some sweet surprises in the smooth Romeo-Juliet love story, which gives you enough reason to take the pain and watch the movie. Abhay Deol (Akram) turns up to be the love of the life for Sonam. A triangle with no specifications and unfurled emotions and sea of poppies thrown in – this is Raanjhana for you.
PERFORMANCE
I had never watched his movie "3" but loved Dhanush in this character of a lover boy cum stalker. He did it. Sonam kapoor was so beautiful but pale. She looked washed up but maybe the movie required her like that. The kiddo Kundan was the best actor of all. Abhay Deol was surprise package, all for good. 😉 And the direction needed more upbeat and scale. The background score will be loved by all. The ending is confusing. And really rushed.
MUSIC
The title track is so awesome. 'Tum tak' and 'Piya milenge' is melodious. 'Banarasiya' is the 'Amabarasiya' of this movie. A. R. Rahman is a legend and now he makes me feel more proud.
VERDICT
If you want to watch it as a fan of one of the stars, you should definitely but if neither appeals to you, you can miss it. Though, it's hard to ask somebody to just miss a movie so beautifully promoted and dressed up for success party line ups that I had ask you o give it a try. RATING: 3/5