Pannaiyarum Padminiyum (English: Landlord and Padmini) is a Indian Tamil comedy film based on the same-titled short film directed by debutant Arun Kumar of Naalaya Iyakunar fame.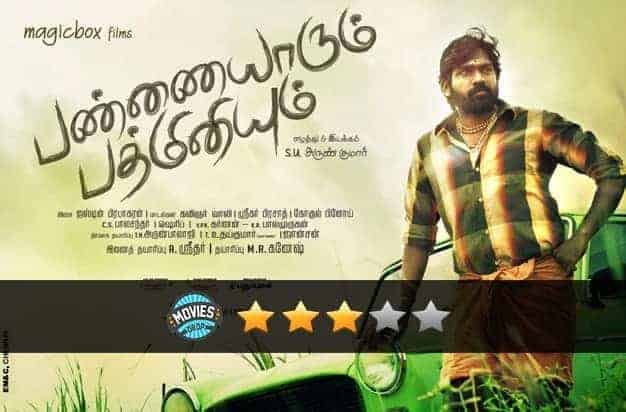 CAST AND CREW
Starring Vijay Sethupathi, Jayaprakash, and Iyshwarya Rajesh
Directed by Arun Kumar
Produced by M R Ganesh
Screenplay by Arun Kumar
Story by Arun Kumar
Music by Justin Prabhakaran
Cinematography Gokul Benoy
Editing by A. Sreekar Prasad
Studio Magicbox Films
MOVIE TRAILER
Pannaiyarum Padminiyum (2014) Review
Fridays have usually touted to be movie releasing days, but from February it has been only Vijay Sethupathy movies, such is the actor demand everywhere and he has a string of movies lined up in his hands.
After a below average outing last week with Rummy, the actor is back with PP (Pannaiyarum Padminiyum). The movie revolves around Pannaiyar (Jayaprakash) and Murugeshan (Vijay Sethupathy) and their love for their car (Padmini). Jayaprakash wants to learn to drive the car to take his wife to a temple function and Vijay Sethupathy helps him for that. Whether he helps in doing it or not forms the rest of the story.
CAST
Jayaprakash and Vijay Sethupathy have shared a good rapport with each other on the screen. The chemistry between the pannaiyar and his wife crosses ahead of Vijay Sethupathy and Ishwarya Rajesh. Bala has done a decent job in his comic role.
Sneha and Attakathi Dinesh have done their guest roles neatly. Thulasi as Pannaiyar's wife has done a great job to her role. The movie would lack the sentiment part without her. Neelima has also played her part well as pannaiyar's daughter.
CREW
Directed by debut director Arun Kumar of 'Nalaya Iyakunar' fame and the cast comprises of some solidity and experienced people like Jayaprakash on the board. Ishwarya Ganesh plays the love interest. Cinematographer Gokul Benoy has a done great job showing the village localities and especially the car, beautifully in every way as he can. Editor Sreekar Prasad has also done a good job.
Justin Prabakaran songs are good..but some of the songs could have been avoided..otherwise he has done a decent job.
VERDICT
Although the screenplay is slow, the performance of the actors and story keeps you intact. Masala movie lovers are requested to watch this movie without their usual fight, punch dialogues things. You are guaranteed to come out of the theatre feeling seeing a good movie if you do that.
Last but not least..congrats to director Arun Kumar for taking the short film (wit the same name) and succeeding in his attempts in his debut film.
To sum it up..Pannaiyarum Padaminiyum is a feel good movie, apart from the screenplay and it will be a special movie in the hearts of vehicle lovers and especially car lovers.
MOVIESDROP RATING: 3/5