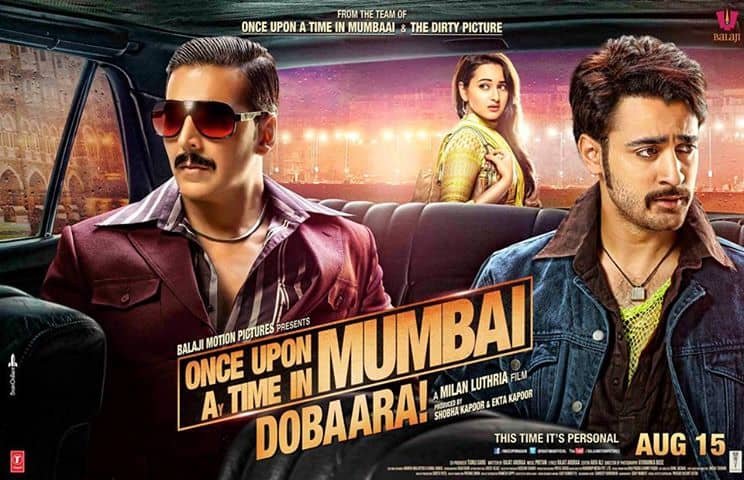 'Agar main hero ban gaya to meri pehchan bura maan jayegi! And such dialogues keep popping up; making you wonder how badly is the screenplay and the script. Luthra is just giving us opportunity to criticize him after this adventurous con-don thriller. OUATIM's sequel is rarely a sequel or rarely as engrossi9ng as its original bhaigiri. A unbalanced trio who don't fit where they belong.
STARRING
Akshay Kumar, Imran Khan, and Sonakshi Sinha
Once Upon Ay Time In Mumbai Dobaara! (2013) (IMDb | Wikipedia) : OVERVIEW
Once Upon Ay Time In Mumbai Dobaara! (abbreviated as OUATIMD and previously known as Once Upon A Time In Mumbaai Again) is a 2013 Indian crime gangster film directed by Milan Luthria and produced by Ekta Kapoor and Shobha Kapoor. A sequel to the 2010 film Once Upon a Time in Mumbaai.
MOVIE TRAILER
---
REVIEW
STORY
Shoaib (Akshay Kumar) is the main protagonist who rules the underworld like a king and raises the lion, Aslam (Imran khan) with a zing. Aslam becomes his right hand and the girl from Kashmir, Jasmine (Sonakshi Sinha), who is head over heels Aslam is being oogled at by his boss, who pins for her and thus a love triangle burns the trail in Mumbai like never before.
PERFORMANCE
Akshay Kumar cannot play the bad guy like this. He sports fancy watches and ray bans often than the swag of a don. His dialogues die somewhere when it becomes too much scripted. There is so less to fight about, so much to be chased by the police that it all boils down to nothingness. Aslam portrays his character well but he too looks dragged into the scenes as if by pressure. as far as the heroine goes, Sonakshi is so silly and dull that you can always never guess why the bhais go after the most dumbest of maals. Vidya Balan's surprise cameo is superb. After her degenerated shitty role in Ghanchakkar, she looks fresh and with a vision. The cast is entangled more in love triangle rather than breaking bones, which is a bad news. Tiku Talsania and Sonali Bendre crate their own shell and act well. The last 30 minutes of the film belong only to the trio and they rise way above their script with vengeance and grit.
MUSIC
Pritam is getting old. OUQTM had melodious tunes and some ever romantic lyrics with "pee lon.." but the sequel sadly throws a bad line up of songs which might sound better on the radio but are not definitely worth the furore on the big screen.
VERDICT
Wait for the DVDs. It should never have been projected as a gangster film. The soundtrack of this film also does not match up. If you don't have anything better, than make up your mind that this isn't a con–don thriller but a romantic rendezvous in Mumbai. RATING: 1.5/5