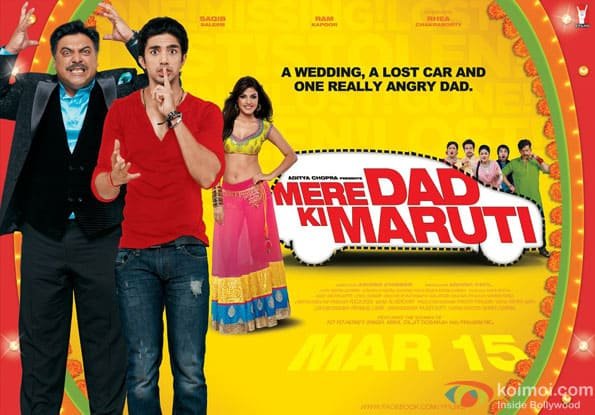 Punjabis are hearty and full of heart is an old Hindi movie theme. Which is portrayed as yet again by YRF. I loved the promo, let's not deny that! But, the movie turned to fool you a bit. Yes, but little bit.
STARRING
Mere Dad Ki Maruti (2013) (IMDb | Wikipedia) : OVERVIEW
Mere Dad Ki Maruti (English:My dad's maruti) is a Bollywood comedy film directed by Ashima Chibber, featuring Saqib Saleem, Ram Kapoor and Prabal Panjabi in lead roles. It also features newcomer Rhea Chakraborty in a pivotal role.
MOVIE TRAILER
---
EXCLUSIVE REVIEW
STORY
The Khullars of Chandigarh, headed the bale balle papaji (Ram Kapoor), are so intent on making their daughter's Doli go off smoothly that they intend gifting their son-in-law a fully-loaded brand new Maruti. Now comes Sameer (Saqib Saleem), Papaji's puttar in order to impress Soni Kudi Jasleen. The 'Shakira' of Chandigarh (Rhea Chakraborty) hooks off with said gaddi, and promptly falls into a series of misadventures, with his pal. There is stealing, replacing, re-winning, sex-ing and outraging Papaji all through the movie.
PERFORMANCES
Ram Kapoor matches up to the role a loud, Punjabi dad, who miserably hates his own son and curses the poor soul, every now and then. Ram was always a very talented actor, always. He can pull off anything; let it be the bhangra subsided Punjabi baap. Saqib Saleem certainly does an impressive job, but somewhere lacks the screen presence. Rhea Chakraborty has nothing new to offer. Since the 'Punjabi' card has been used in films for years, it makes the film look a tad conventional. However, in spite of certain clichés, the film manages to entertain you with its effortless performances, simple story and situational humour. The dilution serves the film well. This isn't a laugh-out-loud comic romp. But some of the gags the film rustles up are genuinely funny and bear the stamp of a degree of cleverness that one rarely encounters in an average Mumbai comedy. Post interval things become quite 'sexy'.
MUSIC
Nothing to boast about but the Punjabi shrill and bon-ton will make you feel lively!
There are tones of moments when you will feel that the lad-in-stress seems your everyday cup of tea. The movie balances well with experimenting comical sense of humour and real life tit-bits and riff-raffs. The movie is a stereotype, no doubt, yet it will make it seem unique at times. You shall feel good. The motto of the movie is to make one feel good. Not blown off with tears of laughter and humour and joys!
You will be transferred to your teenage years, if you are middle aged and want to refresh some naughty moments with your family involved, then this might just give you some tricks and teach you a lesson-never mess up with the 'Papaji'. 😛 The budget of the movie suffices the interest and its making. Not much effort and yet it carries out well enough.
VERDICT
Watch this one, if you want your life to touch you once again through old jokes and funny situations. This is for those who want to spend the weekend with a Punjabi gleam. Or else go for Jolly LB, which I wouldn't recommend, but, both do what they were made to do – Entertain.