You know those times when you stumble across, stunned, dazed and in complete awe? When you forget the invention of popcorns to make your watch entertaining or when you are just flabbergasted by things which would have stopped mattering too soon. This is one of those series. Absolutely perfect. All the Supreme adjectives I ever wished to use would be for this 'bromantic-spade-a-spade' series. Spread across eight seasons and each diamond like episodes glistening with the character development and the high lifestyle Hollywood picturization, the series just gets too good to be true.
Entourage (2004–2011) TV Series Review
Entourage was never intended to be the thinking man's show. HBO wasn't going for anything philosophical and profound with this one. After endless boobs, and tequila, and cocaine benders and race car driving, and luncheons on planes and agent-actor chats – One character which stands out as one of the best-carved actors ever were Ari Gould. I mean- MAN! He was someone whom I had loved to look up to! Entourage was one of the breeziest 30 minutes on television, opening credits to ending credits. When Entourage was still fresh, it was like creator Doug Ellin was putting a mirror up to real-life Hollywood and the entertainment industry and spoofing how outrageous (and thus easily spoof able) it all could be.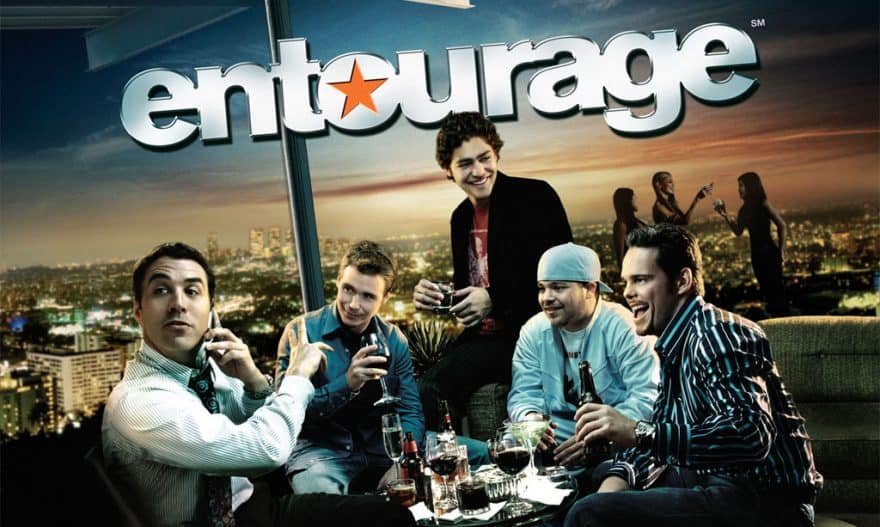 STORYLINE: The travails of Vince (Adrian Grenier) and his posse (OK, entourage) of best friends Eric (Kevin Connolly), Turtle (Jerry Ferrara) and brother Johnny Drama (Kevin Dillon) in Hollywood.
CHARACTERS: Vince played by Adrian Grenier will always remain the coolest guy on earth for viewers. A chilled out chiseled personality, tall and brooding handsomeness with pheromone attracting superpower and kindness flowing in his vein – Vince came out as a superstar who earned for his friends and had no plan ups. Abundant hookups later which even involved real life Porn Queen played by Sasha Grey, he settles for his soul mate forever – Sophia, the most beautiful piece of the series. Each season gives the development of Vince as an actor and his downfall and the snip-snaps of his troubled childhood where his father abandoned him and his brother, mother. Vince is wise, smart but aloof and careless. But he fits the perfect bill if Mark Wahlberg wanted Adrian to portray himself. The ultimate Casanova turns out to be a family man by the end.
Eric played by Kevin Connolly was one of the wisest choices of the casting managers. Kevin imitate the role of insecure, intelligent, dedicated and afraid of commitment to beautiful women manager of the superstar to the best of his abilities and somehow he stayed the same throughout the show, which was a surprise because viewers had wanted him to transform realistically. "E," as his friends call him, is based on Mark Wahlberg's friend and executive producer Eric Weinstein. The emotional support which Eric keeps on seeking and giving is worth the moments. The joke of the group at times because of his conservativeness on dating and shit is well captured.
Johnny "Drama" Chase played by Kevin Dillon is Vincent's older half-brother who is also Vince's personal chef, trainer, and bodyguard. Johnny is a C-list actor who was in the fictional show Viking Quest during his younger days and is the dumb of the lot. Always healing, never giving up – That's Drama for you, as he is popularly called in the show. I enjoyed his character because of the hilarious situations which revolved around him. The poor choices which middle aged men make and are always fouled up in situations where they are innocent enough to be spared – Drama came off really well.
Salvatore "Turtle" Assante played by Jerry Ferraraas, the short, fat and cool-yo dressing sense with caps and basketball sleeves yo who is also a driver and assistant to Vince was one hell of a character. He was like the glue which kept a hold on the group and yet never really much of a character but a filler. Jerry did a good job with his career moves and dialogues. This character is based on Mark Wahlberg's former "gofer" Donnie Carroll aka "Donkey."
Ari Gold played by Jeremy Piven is Vince's abrasive but lovable agent. The role has led to several nominations and Emmy Awards for Piven. Ari was based on Wahlberg's real-life agent Ari Emanuel who I think, for one would have never been able to portray himself as better as Jeremy did! The circumcenter of Entourage got shifted from Vince to Ari slowly and stealthily because Ari was becoming more and more famous than Vince ever was. His faithfulness to his wife, Melissa Gold played awesomely by Perrey Reeves and constant tantrums (Which I could not have enough of) related to homosexuality and foul mouthed insults in good light aimed at Lloyd played by Rex Lee as his assistant in the series were the peak points of the show. Ari has been painted as a hopeless (if sometimes clueless) romantic, but people change from their 20s to their 40s, and who he was then isn't who he is now, a fact that Mrs. Ari just doesn't grasp.
Entourage TV Show – What Makes This Special?
Appearances like Ali Larter, Larry David, Scarlett Johansson, Kanye West, Tom Brady, James Cameron, Dennis Hopper, Martin Scorsese, Matt Damon, Eminem, Peter Jackson, Christina Aguilera, Chuck Liddell, Jessica Alba, Gary Busey , LeBron James, Mark Cuban, John Cleese, Phil Mickelson and many others kept the TVS happy. And well, it was all worth it.
Entourage is like hangover redefined meets sex of the city meets balanced amount of comedy and drama. A combination which is different and a release from the same-story lined hot pursuits running on tv channels these days. I may not believe in everything that Entourage underscores from within the Hollywood bubble, but I do believe in friendship- which lasts longer than relationships. As for "The End" itself, if anybody expected the show to suddenly discover hidden depths – and for Doug Ellin to start putting any kind of effort into the story lines – then they just weren't paying attention for all these years.
The criticism will start and end with one thing- Predictability. Yes, the show was highly predictable and smooched with kisses to lose its charm as a drama series. The comedy however always survived. Viewers were disappointed with the finale, and so I agree- It could have never ended the way it ended. I mean, they could have done any mamba-jumbo and yet it could have ended as a better streak. All in all – The show came to an end like a sugar stick blown in different colors but as soon as put in the mouth – it disappears.
I can not actually choose a certain episode over others to mark it out as the best or the worst. I have collected all the quotes from the series which make me smile or laugh or ponder. Such amazing dialogues. Example for upcoming Entouragians –
Eric: Could you get laid without Vince? That's the question.
Turtle: Do I give a fuck? That's the answer!
Justine: You're gonna have to work for it.
Vince: I got into this business so I wouldn't have to work.
Johnny Drama: If you play gay or retarded you get an Oscar. I'd take in the ass for an Oscar.
Turtle: You'd take in the ass for a guest spot on The Hughleys.
Eric [to Vince]: Forget that girl. The only reason she was with me was 'cause I'm your manager.
Turtle: So? Do you know how much pussy I got in this town that I didn't deserve?
Drama: All of it?
Alan Gray: Remember, this is the studio that did Batman, not The Phantom.
Vince: What are we talking about, Burton's Batman or Schumacher's?
If these quotes aren't gonna make you watch entourage, the less known wonder in showbiz than I don't know what would.