Pride month may only come once a year, but our need for LGTQ+ representation on screen lasts all year long. In a time when extremism and homophobia are on the rise, these LGBTQ shows provide a lovely escape and remind us to still have hope for a better tomorrow. Whether you're a member of the LGBTQ community or a proud ally, these shows are by queer people, for queer people. Grab your popcorn and get ready to binge, henny!
Best LGBTQ+ TV Shows!
---
1. RuPaul's Drag Race (Netflix)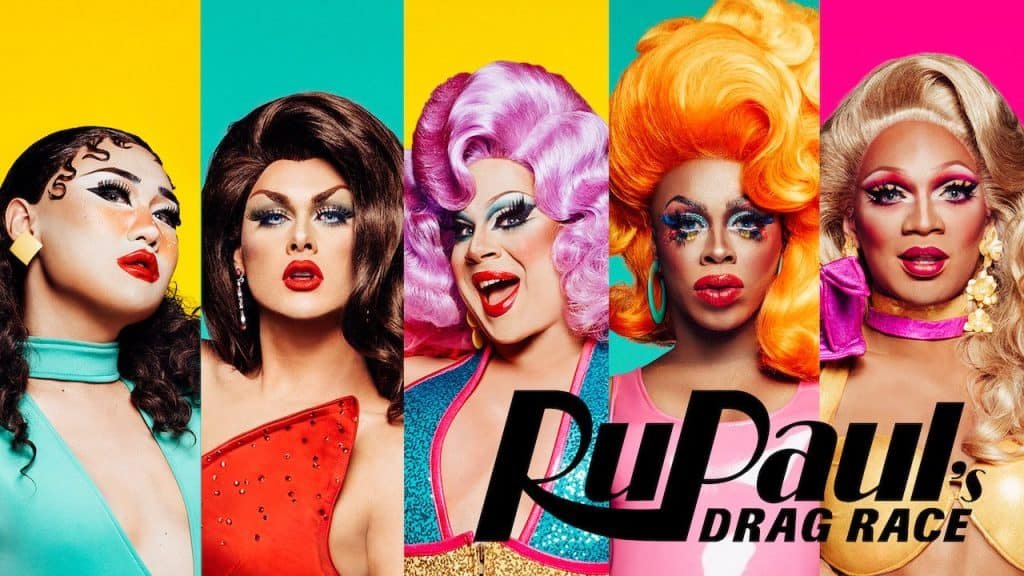 If you're looking for a light, fun watch full of laughs, splits, kicks, and stunning fashion, look no further than RuPaul's Drag Race. This is a competition show for Drag Queens, a.k.a gay and trans performers who use fabulous outfits and gorgeous makeup to perform as female impersonators. Drag is all about a comedic, campy, and exaggerated version of femininity. If you like variety shows, Drag Race is perfect for you – with a mix of singing, dancing, acting, comedy, and fashion challenges, every episode sees queens tackling another new challenge.
Rupual's Drag Race is a pop culture phenomenon that made drag mainstream. The show has had 14 seasons of its American version and has spin-offs in several other countries like the UK, Canada, Thailand, and Australia. If you're getting onboard the Drag Race train, make sure to watch the spin-off show 'Untucked' to get a glimpse at the Queens backstage because that's where the drama is! Drag Race has you covered if your guilty pleasure is watching reality TV with lots of interpersonal drama. What more could you possibly want from a TV show?!
---
2. Heartstopper (Netflix)
This brand-new Netflix hit is the perfect high school romance with a gay twist! Adapted from a graphic novel of the same name, this show gives you all the feels! It manages to strike a beautiful balance between the challenges of discovering your sexuality and the magic of first love. This gorgeous show is filled with little graphic confetti that perfectly captures the butterflies of your first relationship.
In the same vein as the ground-breaking film Love, Simon, Heartstopper is a show that reminds all of us that queer teens deserve to experience a beautiful first love just as much as everyone else. This show has the same vibe as reading a super cute book or gay fan faction. If you're feeling a bit down or you've recently been heartbroken, tune into Heartstopper to feel all the warm fuzzy feelings. With just 8 episodes in its first season, Heartstopper is a great weekend watch – or even a one-day binge.
---
3. Feel Good (Netflix)
Feel Good is a semi-autobiographical show written by and starring comedian Mae Martin. Although the show deals with some heavy themes like drug abuse and internalized homophobia, it does it with a comedic twist. Mae Martin is a stand-up comedian by trade, and Feel Good also features the comedian's journey to becoming successful. The show also pokes fun at Mae's own insecurities and shows the dark side underneath her success as a comedian.
Rather than showcasing a dreamy whirlwind romance, Feel Good shows us both the ups and downs in Maeve and George's love story. The show also deals with Maeve's mental health struggles, and it shows the impact they have on her relationships and her career in a touchingly relatable way. Maeve's love interest Georgina 'George' is a very relatable character for bisexual or bi-curious people. Having only dated straight men before Maeve, George must navigate being in a queer relationship for the first time and what it means for her own identity. It's funny, it's heartwarming, and it gets you thinking. With only 12 episodes across 2 seasons, a weekend marathon is sure to have you… feeling good.
---
4. Young Royals (Netflix)
Dreamy high-school setting? Check. Forbidden romance? Check. An ordinary boy falling in love with a prince? Check, check, check! This Swedish series is perfect for fans of shows like Gossip Girl, Riverdale, Pretty Little Liars, Elite, and more. The plot centers around a (fictional) Prince of Sweden named Wilhelm, who is enrolled at Hillerska boarding school after landing in some trouble with the press. The drama follows his life at the boarding school, his romance with fellow classmate Simon, and other classmates from their school.
Despite being in the teen drama genre, the series handles its themes with a surprising level of maturity and realism. The characters feel flawed but relatable. And the characters are portrayed by actual teenagers instead of actors in their twenties and have been praised for showing real skin textures and acne on screen. The show has two seasons of 6 episodes each, so you can watch the whole thing in a single weekend. Last but certainly not least, this show is a must-watch just for the chemistry between Simon and Wille. OOOF! There are sparks in the air when these two are around.
---
5. Queer-Eye (Netflix)
This one's an oldie but a goodie. If you love watching reality TV that's focused on the lives of ordinary people, look no further than Queer Eye. A team of lifestyle experts known as the fab five uses their expertise to improve the lucky participant's lifestyle. The current cast includes Antoni Porowski, a food and wine expert; Tan France, a fashion expert; Karamo Brown, a culture expert; Bobby Berk, a design expert; and Jonathan Van Ness, a grooming expert. The participant chosen is called a 'hero' who makes a huge difference in the lives of people around them but may not take care of themselves much.
The 2018 version of Queer-Eye is actually a reboot of older shows called Queer-Eye for the Straight Man and Queer-Eye for the Straight Woman, where the fab five gave makeovers. Personally, I prefer the newer seasons more as they tend to feature 'heroes' from different walks of life. The fab-five often ends up finding an emotional connection with the hero, and it's very wholesome to see. If drama-free reality if your jam, Queer-Eye is your best bet.
---
Which one of these shows are you going to check out first? Leave a comment down below telling us which one you feel the most drawn to.