Dogs are man's best friends. We all know that. And if you're a dog parent, you've probably experienced that too. They bring a certain warmth and gentleness to the lives they touch, which is why they're so popular in movies over the decades. Dog movies aren't just beautiful, though, they can usually be watched by families at the same time, and it's easier to get attached to these furry creatures, whether in real life or on screen.
Great Dog Movies Of All Time!
In today's article, we will look at the best movies on dogs of all time spread across time and genres. No matter how much of a cinema connoisseur you might be, there's a healthy chance you'll find something new to cuddle up and watch this weekend. Let's get started right away, then!
---
1. Lassie Come Home (1943)
Based on a French novel by Eric Night, Lassie Come Home is the story of a dog who's sold off by her family. But she's attached to the young Carraclough, who's attached to her too. So when she's sold to the rich Duke, she keeps finding ways to come back to her young master. That is until the Duke takes her to his home in Scotland. However, sensing Lassie's sadness, the Duke's granddaughter arranges for her escape, and she sets off for a long, long journey back home.
It's the story of her journey back home that is at the heart of this beautiful and loving story. From the actors to the cinematography here, everything carries a sense of eloquence. It's the inherent simplicity and tenderness here that makes this movie a cultural icon over the decades since, also giving way to eight subsequent sequels.
---
2. Old Yeller (1957)
Adapted from a novel of the same name by Fred Gipson, Old Yeller is a western drama created under the banner of Walt Disney. The film has an old-school charm to it that gives it a timeless appeal, which is why it remains so popular even after decades of its release. When Jim leaves on a cattle drive, his wife and three kids are left behind on their ranch. When a dog causes some trouble on their field, young Travis has to drive him away.
However, after an incident that sees the dog saving one of the brothers, the other two kids warm up to him in no time, especially Travis. But the rabies outbreak is spreading everywhere, and things have a way of getting out of hand. Would their love survive this? Heartbreaking and beautiful, Old Yeller is a film that charmingly depicts the relationship between humans and dogs. Over the years, the movie has grown in its stature and influence, and it's hard to find someone now who's not familiar with the story of Old Yeller.
---
3. Turner & Hooch (1989)
Though it received varied reviews on its release, Turner and Hooch was a hit and has further risen in popularity following Tom Hanks' success. Scott Turner wants to move to a bigger city (and gets better cases). But then, someone is murdered, and the only one to witness the crime is a dog, Hooch. Now Scott will have to take care of the dog if he wants to solve the case while also making sure the dog is not shot and put to sleep.
But the dog's nature completely contrasts Turner's way of life, resulting in some fun and silly incidents. And there's a murder mystery for both of them to solve. Hanks is the soul of this film, and his performance keeps you watching the movie despite its silliness. The movie has gained cultural significance over the years, and if you're in the mood for some fun, nonsensical comedy (with the warmth that dogs bring to any movie), this is the movie to go for!
---
4. 101 Dalmatians (1996)
The live-action adaptation of the 1961 Disney animated movie, which in turn was adapted from Dodie Smith's novel of the same name, 101 Dalmatians, is a favorite among all dog lovers. While not critically acclaimed, the movie was loved by audiences and was a commercially successful piece. While it's hard not to fall for all the adorable dogs here, fans of the original animated work might prefer it over this live-action.
Regardless, what makes the movie truly stand out is Glenn Close's cruel and menacing portrayal of Cruella. The film got a sequel and a reboot later as well, both starring Close, such was her influence in this piece. Overall, it's a charming piece that is still beloved and cherished by dog lovers in particular. From the special effects to the dogs, the movie deserves to be watched once for sure.
---
5. Lassie (2005)
Another adaptation of the novel by Eric Knight, you can go for this adaptation over our first choice (or maybe watch both of them!). The story's the same: a family has to sell off their dog, Lassie, because of financial shortages, but Lassie keeps returning to them. That is until The Duke, or the new owner, takes Lassie to the Scottish Highlands. But the dog escapes from there, too, making a long journey back home.
It's the way this movie has been created that makes it so unique and refreshing. Be it treating the film from an "adult" perspective which ensures it entertains and engages adults and children alike, or the acting by every cast member, including the canine actor, the movie gives a new and balanced perspective to the classic story. If you're in the mood for an emotional and well-directed movie, Lassie won't disappoint you.
---
6. Eight Below (2006)
A remake of the Japanese film named Antarctica, Eight Below is for all those who're adventurous at heart. Plenty of mutts and thrills await you in this story inspired by true events. Set in Antarctica, the movie's core expedition is about saving a herd of dogs who were left behind on one of their missions. The members of the mission were forced to leave the dogs behind after an accident and worsening weather.
Now months later, Jerry Shepard, a guide, will risk his life and the lives of his colleagues to rescue the dogs left behind in the blistering Antarctican cold. Delightfully narrated and gorgeously shot, regardless of whether you're a lover of dogs or in the mood for a heartwarming story, you'll enjoy Eight Below. The canine characters are adorable, and you can't help but be charmed by their performances.
---
7. Hachi: A Dog's Tale (2009)
Another Japanese remake, Hachi: A Dog's Tale, adapts the 1987 flick Hachikō Monogatari which told the true story of a dog named Hachikō. When a professor finds a lost dog near a train station, he takes it home with him. Over the years (and the duration of the movie), they get close and have some tender and heart-wrenchingly emotional moments. This is what forms the core of the movie.
Any dog lover is sure to relate to the special bond between the professor and his dog. The performances are exquisite and might even make you cry. Such is the intensity and poignance of the movie. Don't expect some high-stakes drama because it's anything but that. What it is, is a tender and gentle reflection on the bond we share with our furry friends, something hard not to cherish and appreciate.
---
8. Marley & Me (2008)
In the mood for some silly comedy (with a dog added in as a bonus)? Marley & Me is here to enthrall and entertain! It's an adaptation of the book Marley & Me by John Grogan and follows two newlyweds played solidly by Jennifer Aniston and Owen Wilson. Creating a new life for themselves in Florida with a new home and new jobs, they adopt a yellow pup, Marley. Little do they know the trouble they're in for.
Marley would wreak havoc in their lives (only in a fun, goofy way, don't you worry), which drives the plot further and gives you lots of chuckles and laughs to hold on to. It's a beautiful description of the uncertainties of a new life as a family, along with the adventures and messes pups usually create. And at the end of it, this might not be some magnum opus that keeps you at the edge of your seat with its themes and metaphors, but certainly something you'll find yourself relating to and enjoying as a comfortable watch.
---
9. Red Dog (2011)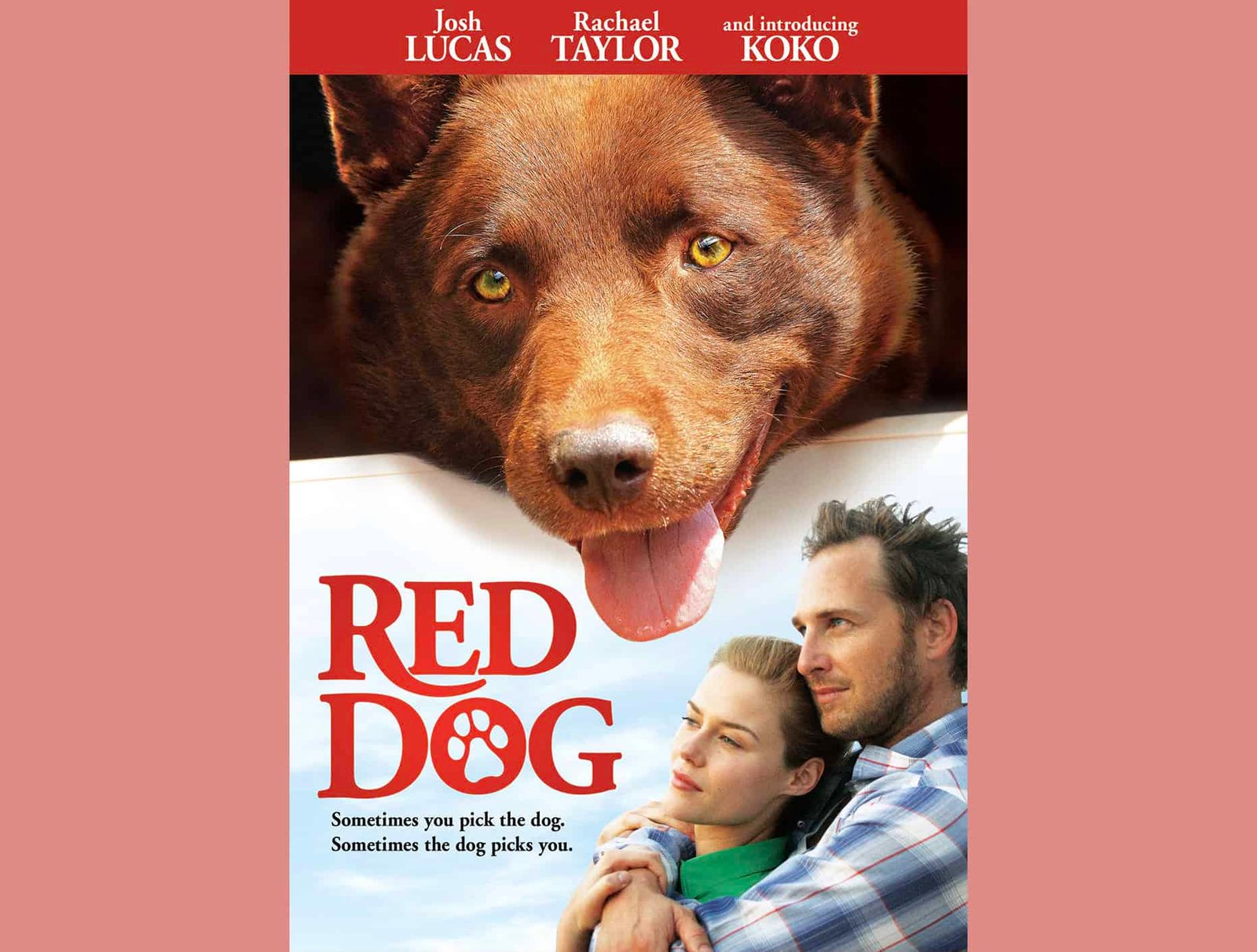 A commercially successful AND critically acclaimed movie is one of those combos every filmmaker aspires for. And Kriv Stenders achieved just that with Red Dog. Using Louis de Bernières's novel of the same name as its source material, the film revolves around a true story of a dog searching for its master. In the process of it, he also manages to bring together a divided community.
Geoffrey Hall's cinematography is masterful, and each cast member gives their best performance. It's these two factors that hold the movie through its ups and downs, ultimately creating a deeply humane piece. It'll make you chuckle, it'll make you shed some tears, and it'll make you love your dogs just that little bit more.
---
10. A Dog's Purpose (2017)
There are not many better ways of describing this movie than saying it's a love letter to our furry friends. What happens when a dog grows up with a kid and eventually dies… only to be reborn with a police officer. And then with someone else, and another one, until he finally comes back to where it all started- the kid who's now an old man. Set over five decades and adapted from the W. Bruce Cameron novel of the same name, it's a journey of a dog through different lives and human beings to find his purpose and to help others find it too.
Lasse Hallström has had some great experience in making dog movies, and that expertise and love shine through here too. While the actors are all great in their portrayals, it's their canine counterparts who're at the heart of this movie. The movie is created in a way that you can't help but fall in love with the canine protagonist of the story as you follow him through his multiple lives and multiple purposes.
---
11. The Art of Racing in the Rain (2019)
We sure have a lot of adaptations here, don't we? But what can we do? The best of the stories are often hidden behind pages. Adapted from Garth Stein's novel of the same name, this is the story of a dog who loves car races. It's the story of growing up with your dog as one of your best friends. It's the story of supporting someone through thick and thin. It's also the story of how the lessons learned on the race track can also be applied to life.
Created with ample emotions and love, you won't find many twists and turns here. And yet, it's hard not to get captivated by this tale of love, companionship, and the little joys of life. The lessons sprinkled throughout the movie make it a great movie to be seen with your family on a nice, cozy weekend. Of course, you can all enjoy some collective sobbing by the end of it, so keep tissues handy!
---
12. Togo (2019)
Arguably the best movie on this list (certainly my top pick from the lot), Togo is based on a true story set around the 1925 diphtheria epidemic. The fidelity to real-life events is strikingly high, which lends a layer of authenticity and groundedness to the story. It's hard to pick one particular department that shines, for each aspect of the movie is beautifully created, from the performances to the cinematography to the splendid soundtrack. The writing is wonderful despite the simple story, which helps in creating a more emotionally charged piece.
The basic premise is relatively simple. Leonhard Seppala, a dogsled trainer, will embark on a journey through the treacherous landscape of Alaska with his lead dog, Togo, to deliver medicine to a village in need. It's going to take them everything to carry out the job successfully, and that journey (both literal and metaphorical) is what forms the heart of this film. The movie treats the special bond between a human and a dog with much respect and tenderness, and that translates wonderfully onto the screen.
---
13. A Dog's Journey (2019)
The sequel to A Dog's Purpose (remember it from a while ago?), and adapted from Cameron's sequel book of the same name, the movie resumes where the first one ended. Bailey is living with Ethan and has a new playmate in the form of CJ, Ethan's granddaughter. But after CJ's mother decides to take her away, Ethan asks a dying Bailey to take care of CJ. Thus becomes another journey of love, sacrifice, attachment, and… purpose.
It's a movie that, like its predecessor, can be enjoyed with your family for its values and the love it's filled with. There are plenty of heartwarming moments, and the overarching theme is of staying with someone you care for till the very end. There's a certain sense of nostalgia to the piece that makes you long for simpler and somewhat better times while simultaneously enjoying this compelling piece.
---
14. The Call of the Wild (2020)
While the visual effects might hinder your experience of the film now and then, that's about the only major fault this beautifully told story has. Taken away from his Californian home and shifted near the Alaskan region, it's the story of his resilience and the new home he finds there. Based on Jack London's novel of the same name written over a century ago, Harrison Ford's performance holds the movie perfectly through its ups and downs.
The setting of the story ensures it's a visual feast and a treat to look at (yes, despite the clunky CGI), what with the northern lights and the snowy terrains. The movie somewhat Disney-fies the original tale, but that only makes sure you can watch it with your kids and family. There's a lot of heart in it, as often happens with movies involving our furry friends, and you might find it pulling at a few, or a lot, of your heartstrings by the end.
---
15. Dog (2022)
Co-director Channing Tatum starred in a movie that delicately shows the horrors of war through two characters (one human and one canine) struggling to get used to the regular world. Briggs and Lulu will go on a long trip to attend a friend's funeral, and along the way, they'll learn how to let other people into their lives. Well, all that while driving each other nuts. It's a movie that shows healing and how it's a different journey for different people, not to mention the permanence of mental injuries that one takes on.
Despite the heavy subject, you're subjected to several funny and sweet moments that create an overall balanced story. There's nothing in it that's going to blow your mind away, and yet the simplicity and beauty of the story keep you transfixed. Maybe not the best family watch, but it's certainly something you'd enjoy, if only for how the movie treats the subject matter and Channing Tatum's performance.
---
These are the great movies on dogs that you should definitely watch! These films are inspiring and emotional, and they will always remind us that dogs are indeed our best buddies, no matter what. Let us know your favorite dog film in the comments below.
Frequently Asked Questions (FAQs)❓
Can I watch these movies with my dog?
Yes! Absolutely! You can watch these movies with your dog. Though they might not always understand what's happening on the screen, they will enjoy the sight of their fellow dog buddies. Their visuals and sounds. It's not always about the movies you watch but the companionship.
What kind of dog movies are there on the list?
We compiled the best and the great dog movies that are inspirational and emotional; some make you sad, some make you happy, and of course, all will give you happy tears. But all the dogs are way too lovely.