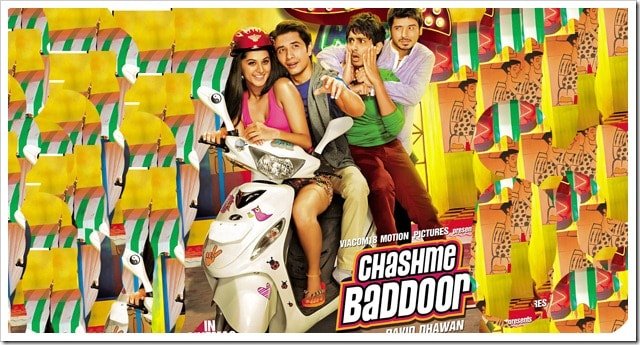 "This is a very new film; it has not been made by watching the old film. It is wrong to say so. If you would see the film, you would not say (that they are the same). If it was not named Chashme Baddoor, then also it would have worked. It is a different film by David Dhawan. It's a David Dhawan bromance-comedy," said the Rang De Basanti fame actor, Siddharth. My review is all about dissecting his say and take. I was in a hall packed of youngsters and even those middle aged group who had fallen for Deepti Naval's act long back. But, not very long.
STARRING
Chashme Baddoor (2013) (IMDb | Wikipedia) : OVERVIEW
Chashme Baddoor (English translation: Far be the evil eye) is a 2013 Bollywood adult comedy film directed by David Dhawan. The film stars Ali Zafar, Siddharth, Taapsee Pannu and Divyendu Sharma in lead roles.
MOVIE TRAILER
---
EXCLUSIVE REVIEW
"Chashme Baddoor" is those kinds of remake which gets promoted well, has an awesome title, which people already appreciate yet they turn out like Devgn's 'Himmatwala'. But, barely a remake of Sai Paranjpe's classic. I am not a classic critic and this one isn't that bad what I saw last week. It's the sort of stunted, mind-numbing comedy that compels you to judge the person laughing in the seat next to yours and points you smile through raw humour too.
STORY
Sid (Ali Zafar), a bookish nerd who has two friends for full to bromance, Omi (Divyendu Sharma) and Jai (Siddharth), both of them spend their waking hours pawing at girls and making lewd remarks at college gatherings. They spot Seema (Taapsee Pannu) and fall for her. Sid, unknowingly, also falls for Seema as well, but the two friends decide what they can't have, their friend can't have either and set about creating problems between Sid and Seema. The movie then sees the light of a series of happenings.
PERFORMANCES
Pannu is a new addition (yet another) to Bollywod. She is cuter than Tamannaah (no offence to Tannu's fans) but she is again, just another new face which could offer a lot more. Shastriya Sangeet-trainee, 'Chamko' washing powder-selling Neha that Deepti Naval had brought to life in the original which pannu obviously lacks. Ali Zafar shows his comedian doppelganger once again and with panache. The supporting cast consisting of Rishi Kapoor, Lilette Dubey, Anupam Kher and Bharti Achrekar is fabulous. A double dose of the comical Anupam Kher, with his military act and bandooks is entertaining as ever. Bharti Achrekar as the animated mother brilliantly matches up to Kher.
MUSIC
Too many numbers. Little less wouldn't have killed the storyline. The music is good and quirky. Sonu Nigam, Wajid, Ali Zafar and Shreya Ghoshal have done a good job with the soundtracks and the tune. Suits the story.
Even the classic line, delivered effortlessly by Naval – "Chamko – kapdo ke liye behtareen sabun, baar baar lagataar, Chamko kapdo mein chakachaundh chamak lane ke liye, khushbudaar, jhaagwala Chamko" – falls flat when Dubey says it to Kapoor. Chashme Baddoor does evoke a degree of nostalgia but then again, you need a melodious remembrance of good old times not a thinking cap on your head- waiting to drill through your head. The 80's were without so many critics and so many people to review the blockbuster of the day, and maybe that is why we never had the sense of finding flaws with cinema, but watch those movies now and you had to be surprised that tech or no tech, critics or no critics – those movies were golden.
VERDICT
Watch this if you haven't watched the 80's Chashme Baddoor. (I always advice this with remakes because remakes have one thing in common – they don't surprise much, and when they do – they are mindblowingly awesome, which this one is sure as hell, NOT). This movie might give you a funny tickle in a bone here and there, but truth be told – it is not as good as it could get. 😉