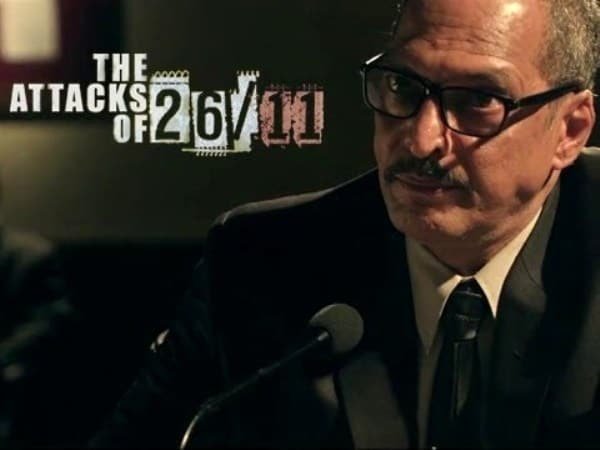 The Attacks of 26/11 (2013) Review: A Hindi crime-thriller film, based on the 2008 Mumbai attacks. Directed by Ram Gopal Varma. Starring Sanjeev Jaiswal who plays the role of terrorist Ajmal Kasab.
I was intrigued by the bold topic which the director had chosen and the actors who were to portray some real life terrorists had gladly taken task to. The horrendous incident which shook the nation and was one of the most dementing terrorists attack on Mumbai has been with lot of hardwork and precis in, shown by the film makers.
STARRING
The Attacks Of 26/11 (2013) (IMDb | Wikipedia) : OVERVIEW
TRAILER:
The Attacks Of 26/11 (2013) Review
Ram Gopal Varma, who infamously managed to gain access to the Taj Hotel, a mere three days after the siege. This was meant to be an official assessment of human collateral and physical damage, not a location recce by a filmmaker, which manages to recreate the events of that first fateful night.
STORY
This Hindi crime-thriller film Mumbai's Machhimaar Colony and ends in cut out limbs, butchered people and crying tele shows on the atrocities committed by ten people in a midnight. This film manages a few moments of soundless menace. The opening sequence, for instance, with the fishing boat Kuber tricked into stopping by another boat's request for help, achieves a sinister sense of foreboding you might have read this story and watched the news so many times, even now magazines couldn't stop going over the script of this movie ends this went on till Kasab was hanged, so no point in detailing an already established story in the minds and hearts of people.
ACTING
Nana Patekar as Rakesh Maria, Joint Commissioner of Police needs no mention about his acting skills and the velocity and gravity of his public sense and activity mesmerizes me in a subtle way. He did justice to the cop, who couldn't rest. Sanjeev Jaiswal as Ajmal Kasab was brilliant too. He didn't look like the real Kasab, but he captured the essence. This character showed the audience why people end up as terrorists. If only RGV had put some before-life story of a boy mind washed to become a terrorist, it would have been really amazing. Plus the movie would have done justice to its subject matter. Atul Kulkarni and Jitendra Joshi as constable and Ganesh Yadav as Amar Singh Solanki, captain of trawler MV Kuber were quite 'boring'. We have seen such characters before, hundreds of times and they didn't give anything new to chew on. Farzad Jehani as himself, owner of Leopold Cafe has done a nice job. The whole shooting sequence and panic created herein is simply mind blowing. Ravi Kale as sole surviving constable in Police Jeep at Cama Hospital will make you salute the constable. Though he can't make you cry, which he could have, if not for the over acting.
SOUNDTRACK/MUSIC
Music suits the mood of the film. "Maula Maula" is perfect. "Aatanki Aaye" and "Khoon Kharaba Tabaahi" are hatke songs. "Raghupati Raghav" gives boost to the already sunk-in mood. "Nazam track 26/11" is brilliant with lyrics. Sukhwinder Singh, Rooshin Dala, Jaspreet Jasz, Shreya Ghoshal, Shabab Sabri, Aman Trikha need an applause for the work they did. This wasn't easy. Hollywood couldn't have come up with better soundtracks.
This movie is strictly blood and gore, for which RGV is famous for. Many critics might criticize this movie on the biased view for a once upon a time brilliant director, yet here, he did prove his mettle by going into the heart of the siege and attacks. The movie might not be a very good or superb crime thriller, yet, as far as progress with this genre in Indian cinema goes, RGV did it properly. The religious talks and walks are damn boring. The dialogues said by the actors are rubbish and of their own kind. The problem with the movie is that it doesn't connect very well. It might leave you unsatisfied and though the chickened out bodies and death suffices the screen with ample Hollywood style 'Hills have Eyes', this movie can't replenish the fact that such movies are not a piece of cake, not even for the brave audience.
VERDICT
If you want to experiment with the new born Agenda of RGV to acre the Audience with Blood and narrate a Real Life Incident, then go for it. Otherwise, just don't.