Raja Natwarlal (2014) Review: A Bollywood crime comedy film directed by Kunal Deshmukh and produced by Siddharth Roy Kapur under UTV Motion Pictures. The film stars Emraan Hashmi in the title role, alongside Humaima Malik, Paresh Rawal and Kay Kay Menon.
Raja Natwarlal-an Ocean's 12th man of sorts-succeeds where many a desi comedy (con+comedy) dies an unimaginative death. This is like Jannat spin off but with no spins and offs. Pretty decent the movie goes. With some awesome moments which we require when we think of Emraan Hashmi is a plus one.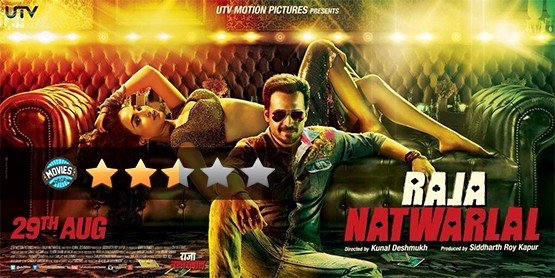 CAST AND CREW
Starring Emraan Hashmi, Humaima Malik, Paresh Rawal and Kay Kay Menon.
Directed by Kunal Deshmukh
Produced by Siddharth Roy Kapur
Music by Yuvan Shankar Raja
Language Hindi
MOVIE TRAILER
---
Raja Natwarlal (2014) Review
Street-smart hero (Emraan Hashmi), who in this case is a small-time conman named Raja. The first half holds your attention in setting up the premise. Emraan Hashmi is convincing as a small-time scamster with a big heart.
CAST & CREW
It's the performances where 'Raja Natwarlal' manages to score. The casting is spot on. The talented Emraan beautifully blends vengeance and vulnerability. The Pakistani kudi is not happening at all. Was I disappointed? Oh boy! Emraan- He seemed very tutored in many scenes and the romance that is an easy job otherwise seemed efforted and underwhelming this time.
The romance between the leads was pushed. Not a good thing but I am loving the fact that I get to criticize the serial kisser on such points. The action sequences are chilling. Paresh Rawal as Yogi is enthralling. He is seriously one of the bests we have in the country. Kay Kay Menon is an actor wasted in the film. The direction is pretty lame at times, as if you could hold the rod and shout- Action!
MUSIC
The romantic track works as a distraction more than a part of the story. It seems frequently that when the plotline begins going haywire, the writers fit in a song out of blue or a needless love moment. I loved the "Tere hoke rahenge". I mean- WOW.
VERDICT
Watching this flick would never make your day but if it has to – the storyline will surely do. Watch the flick for its flick side of heaven – it has some kickass-ness.
MOVIESDROP RATING: 2.5/5