'History is the certainty produced at the point where the imperfections of memory meet the inadequacies of documentation.' – Julian Barnes, The Sense of an Ending
Rani Padmavati of Chittoor has long fascinated historians. Was she a historical figure or a work of fiction? There are several accounts that try to ascertain her existence. True or not, she has remained a mystery. When Sanjay Leela Bhansali made news that he was directing Padmaavat, it did not go all too well. Sets were vandalized, censor intruded and even a school bus was targeted. I wonder what the Rajputs and Karni Sena were doing when Tamil Cinema saw its own adaptation way back in 1963. Sivaji Ganesan, Vyjayanthimala, and M N Nambiar starred as Ratan Singh, Padmavati and Alauddin Khilji in Chitoor Rani Padmavati, written by C V Sridhar (of Kadhalikka Neramillai fame) along with Elangovan and directed by Chithrapu Narayanamurthi. While that film was a commercial failure, the acting, songs, and sets drew attention. Just the kind of film Sanjay Leela Bhansali is known for.
Padmaavat (2018) Review
Ranveer Singh is a Beast here. Deepika is Charming & Elegant.
Padmaavat portrays Alauddin Khilji as the ruthless ruler whose greed for lust and power had no limits. Ranveer Singh is a beast here. Often keeping his hair double plaits, he is unkempt and evil incarnate. Nothing can deter him from his march to the throne. He screams and the world shudders. We see him first becoming the son-in-law of Jalaluddin as he proposes to marry Mehrunisa (Aditi Rao Hydari). He lusts for another woman and kills a man on the day of the wedding making Mehrunisa fear him. Her fears turn to numbness when she learns of how low he can stoop to in order to usurp power from her father Jalaluddin.
On the other hand, we see Ratan Singh falling to the beauty and grace of Sinhala Princess Padmavati. Fortuitously struck by her arrow, she nurses him back to health and receives his love in return. Deepika Padukone is charming and elegant even if Shahid Kapoor seems to be mouthing dialogues like a school kid standing attention to hide what he is munching while attempting to answer a question. On returning to Mewar, the people in the court seem to graciously accept the new queen. She dances to perfection in Ghoomar winning the hearts of the women even when 'history' does not recall her for her dancing.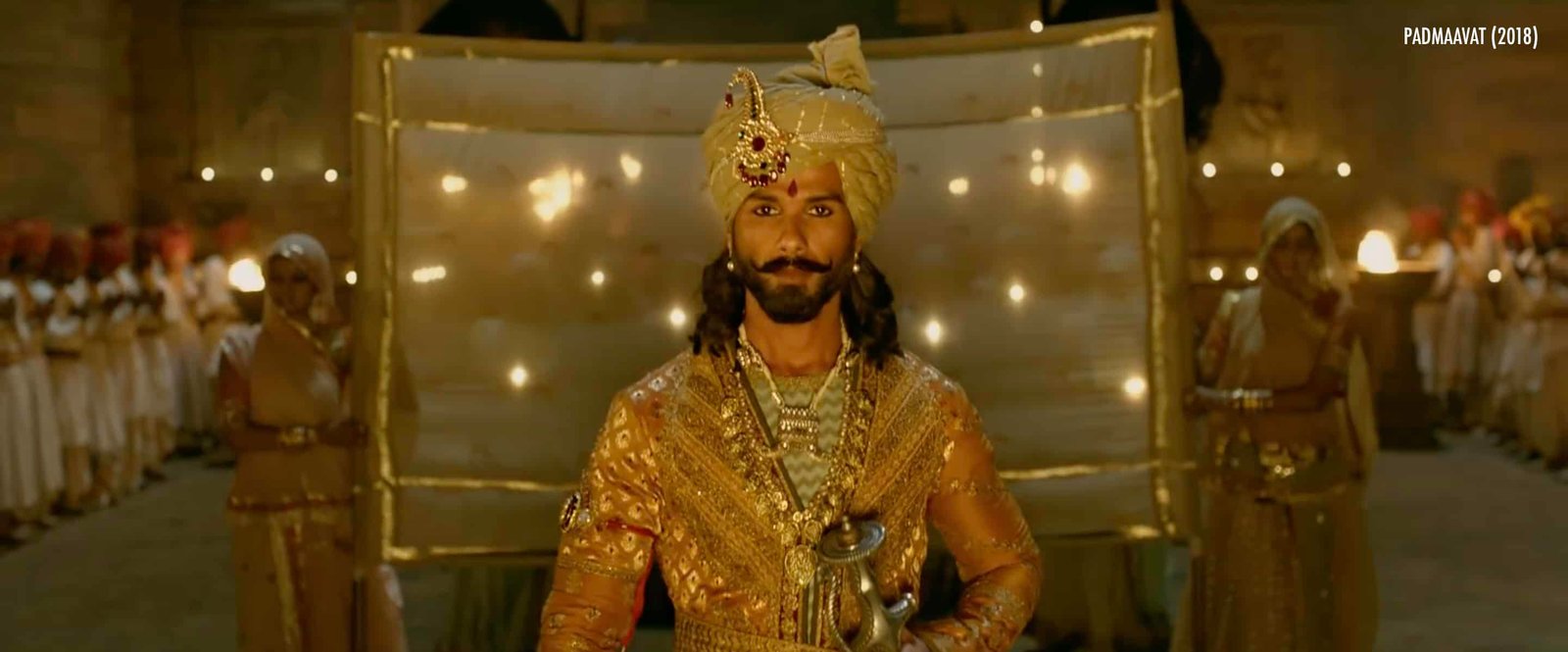 A trusted aide turns a peeping Tom to receive the wrath of King Ratan. Banishment and curses follow. Alauddin makes Delhi his own with his effeminate slave, Malik Kafur (Jim Sarbh) while Mehrunisa mourns. In a film filled with men, it is the two women who come across as humans filled with wisdom and compassion. You wish to see more of Mehrunisa. Like Mandodari was to Raavan, she remains loyal to Alauddin even if she questions his moral compass. When Alauddin learns about Chittoor in much the same way as Raavan learns about Sita, he immediately sets off on his next conquest. With truce abandoned and a war called, all hell breaks loose.
Ratan seems to stick to his moral scruples and ethics against the cunning Alauddin who does not care about the means to achieve what he seeks out for. The most moving scene of the film occurs later when Padmavati, being questioned of her honor, seeks out a tactful way to ensure she returns from Delhi with her husband without meeting Alauddin. In those brief moments when Padmavati and Mehrunisa meet, you empathize with all the women whose marriages with cruel or insipid rulers trapped them from living a free life. You wish such moments in Padmaavat lasted longer for us to be emotionally invested in the film.
Rather, Sanjay Leela Bhansali's Padmaavat is a dreary, tediously long film that seems like a weaker follow-up to his stellar Bajirao Mastani. His films are attractive to look at and there is a rhythmic flow to the visuals. However, in Padmaavat, there seems to be a glaring disconnect between the film and the audience. That it has come out in 3D takes out the visual splendor of Sudeep Chatterjee's cinematography. The songs, generally the strong point in Bhansali films intrude like acquaintances initiating small talk in chance encounters.
Actors do more to the film than the film does for them.
Padmaavat, despite all these, holds your attention because of Ranveer Singh, Deepika Padukone, Aditi Rao Hydari and Jim Sarbh. These actors do more to the film than the film does for them. I wonder how much had been tweaked from the initial film. However, if the same care and attention with which the CGI protected Padmavati's midriff being exposed was paid to the lack of depth in the story, perhaps the movie would have been a lot more compelling to watch. Padmaavat comes out as that history lesson in school we were compelled to read. Wish the film was more than just information and breathed life. Failing, it becomes a carnival of rust.