We all love Food, don't we? Especially when we see an exotic spread of Food in Movies that make our tummies growl. These Hollywood movies about food are sure to tingle your taste buds.
Best Hollywood Movies Based On Food
1. Willy Wonka and the Chocolate Factory (1971)
One of the world's most known and popular movie, Willy Wonka and the Chocolate Factory is what every kid dreams of. While the story revolves around a boy from a poor neighborhood getting, once in a lifetime tour of the Willy Wonka's Chocolate Factory, it's more of a food porn for those who have a sweet tooth. Forget the candy house from Hansel & Gretel. With edible scenery, a massive river of pure chocolate, the movie gives a new meaning to candy heaven.
---
2. Big Night (1996)
"Two immigrant brothers from Italy with great culinary skills come to America to open their dream restaurant. But the authentic Italian food isn't liked by the locals, and the business becomes a huge struggle. The only way to save the restaurant was to make the 4-star event of the year a grand success.
---
3. Chocolat (2000)
When Vianne and her daughter come to a small tranquil French town rooted in religion and tradition, Their new chocolate shop starts to woo the community. Within a few weeks, the entire town is entranced with her magical chocolates. Just when the Lent begins, the Mayor of the town does everything he can to bring the town back to its original ways and drive out the newcomers.
---
4. Tortilla Soup (2001)
Tortilla Soup is a 2001 American comedy-drama film about three sisters; Maribel, Leticia, and Carmen, living with their father who is a veteran chef (Martin). Martin has one simple rule for the house everyone should be at home for Sunday's dinner. When all the sisters get into relationships, a crack forms in the family and an unpleasant woman (Raquel Welch) sets her eyes on Martin.
---
5. Sideways (2004)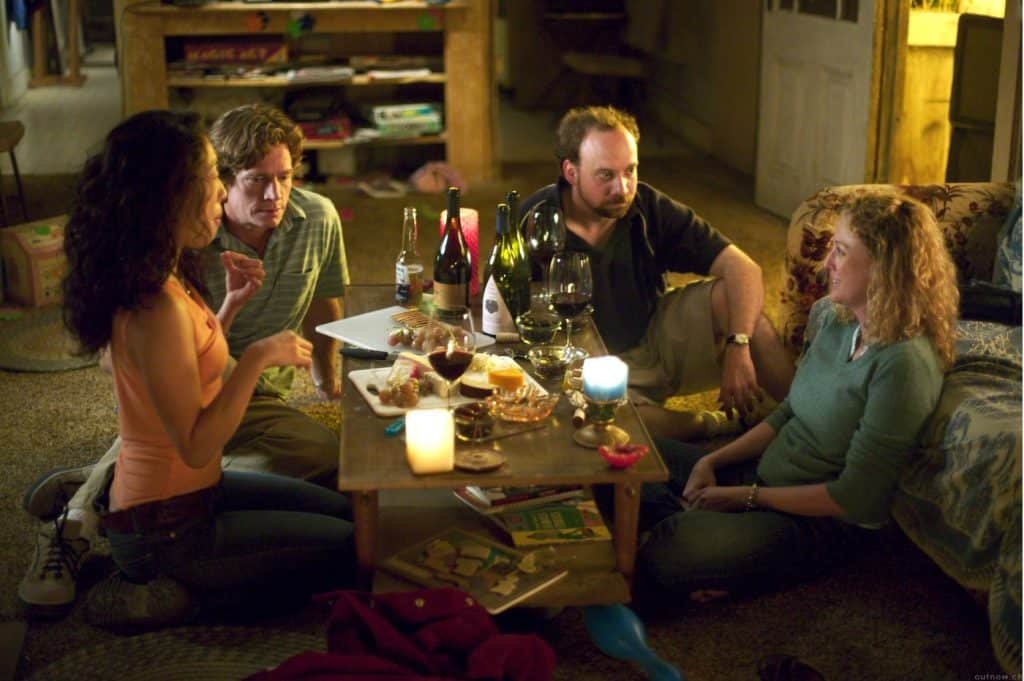 A borderline alcoholic and a struggling writer Miles Raymond and his soon-to-be married friend; a washed up soap actor Jack Cole, goes on a trip to the wine country for their last experience as single men. Jack wanted to have a final fling before the wedding while Miles just wants to relax. Soon they meet Maya, an attractive waitress and Stephanie and Jack sleeps with the latter. When Miles blurs out that Jack is going to get married to Maya, he is dumped while Jack gets his nose broken by Stephanie and the rest of the trip is thrown into complete disarray.
---
6. Charlie and the Chocolate Factory (2005)
Tim Burton recreated the same magic from the former movie in 2005, this one starring Johnny Depp as the great Willy Wonka. While the story line is nearly the same, the difference between the 1971 and 2005 is the awesome CG that sway us into a new world of chocolate rivers, candies and everything that brings out the inner child in us.
---
7. Ratatouille (2007)
Ratatouille, a movie about a young rat who gets inspired by Chef Auguste Gusteau to cook without any limits. When Remy partners with Linguini that's when the fun begins. They make amazing food and humor together and keep our plates full throughout the movie.
---
8. No Reservations (2007)
Kate Armstrong played by Catherine Zeta Jones, is a serious workaholic chef who hasn't dated for nearly four years and is well-known for her 'Roast Quail with White Truffle.' When her sister and niece (Zoe) were on their way to meet Kate, they meet with a terrible accident, and her sister dies. She then becomes the guardian to her young niece which doesn't go well as they had planned. That is when a sous-chef (Nicholas Palmer) comes for rescue to help strengthen the bond between Kate and Zoe and also to open their own bistro as a new family.
---
9. Cloudy With A Chance Of Meatballs (2009)
When Flint's town gets hit, all they could afford to eat was sardines which were gross. So, he who is a failed inventor and ridiculed by many builds a machine that converts water into yummy-licious food. But when the machine goes out of control that is when things take a new turn.
---
10. Julie & Julia (2009)
Based on the lives of 2 women, Julia Child, a famous chef who brought the recipe of french cuisine through her book in the 1950s and Julie Powell, a blogger who takes up the challenge to finish all of Julia's 524 recipes in 365 days in 2002 , the movie shows how both of them struggled with being a novice cook to becoming a pro.
---
11. Chef (2014)
Creative chef Carl Casper hastily quits his job from a famous restaurant in Los Angeles because of his dominant owner. He has to figure out what he has to do next. Soon he opens his own food truck with the help of his ex-wife, son and friend. Carl goes back to his roots to find his ultimate love for cooking.
---
12. The Hundred-Foot Journey (2014)
Hassan Kadam is a self-taught gastronomy novice with extraordinary cooking skills. When his family moves out of India and settles in a small French village, they plan to open an Indian bistro. But Madame Mallory the owner of a famous restaurant nearby strongly objects. The feud between the two restaurants goes on day and night until Mallory recognizes Hassan's impressive culinary intelligence and takes him under her wing.
---
Hope these appetizing movies are now on your watch-list plate. What are your favorite Hollywood movies based on Food? Did we forget to add any of your special movies in the list? Do tell us in the comments below; we would love to know.