I started to use Netflix actively this year, I use it on my laptop (web) and my Android (app) device. I was not comfortable with online streaming initially, but, thanks to the awesome episodes and movies by Netflix, we literally live inside Netflix now and chilling. You can use it anywhere, Windows, macOS, Android, iOS, Apple TV, PlayStation, Xbox, Nintendo Wii, your random smart TV, etc. I often use Google Chrome browser on my PC instead of Apple Safari or Mozilla Firefox for this video experience though.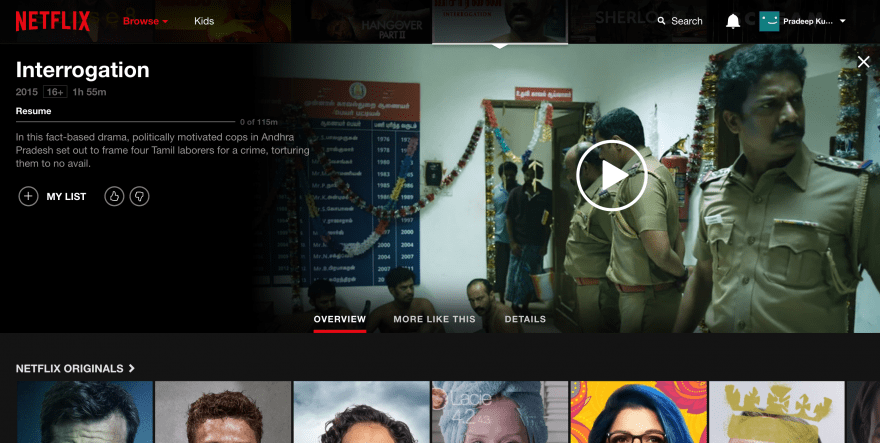 In this article, we'll be sharing some of the useful, unknown and hidden keyboard shortcuts (Netflix Hotkeys) that'll be essential for your viewing experience. Instead of using your mouse or trackpad, pointing to the screen, click on the options, you can now directly press a key and save time! We don't really have keyboard navigation shortcuts for accessing the secret hidden menu or changing the HD quality resolution, but we have some new cool ones. Shall we get started?
Netflix Keyboard Shortcuts You MUST Know!
I picked my favorite Tamil movie "Visaaranai (2015)" (Genre: Crime/Thriller) for explaining these shortcuts, it's just my small tribute to the bold making of this movie and team.
Toggle Play/Pause (Space / Enter)
This is probably the commonly used keyboard shortcut on Netflix. You don't have to go to the screen and click on the "Play/Pause" icon anymore, just use your Space bar or Enter key for this. Press it once to play/pause, and again press it to play/pause. That's all. I usually prefer the "Space" bar key for this. It's large and easy to access.
---
Volume Up/Down (Up/Down Arrow)
Instead of going to the "Volume" slider option in the player, you can use your Up ↑ and Down ↓ keys for this. When you press Up/Down key(s) you won't be able to see the slider change, but the volume will be decreased/increased in the background. I generally don't use this volume control option often, very rare, regardless of ear/headphone or speaker.
---
Mute Volume (M)
Again, this is one of the rarely used options, we don't really "Mute" anything these days. We'll just "Pause" the video instead. But, just in case, if you are playing any adult (18+) movies, press M key to mute the audio. :')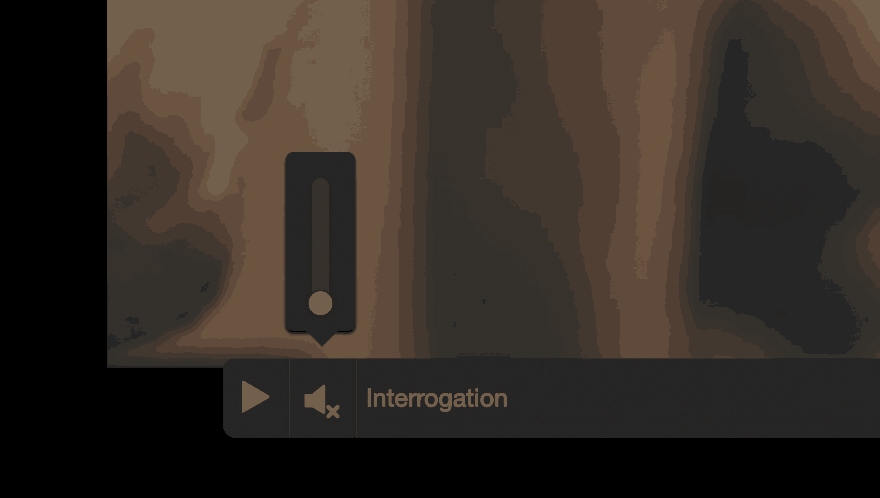 ---
Full-screen + Exit (F)
I use this shortcut a lot. I always watch movies in full-screen, but if I'm expecting notifications on Facebook, WhatsApp, etc. then I used to minimize/maximize using F key and check often, so this comes handy for me.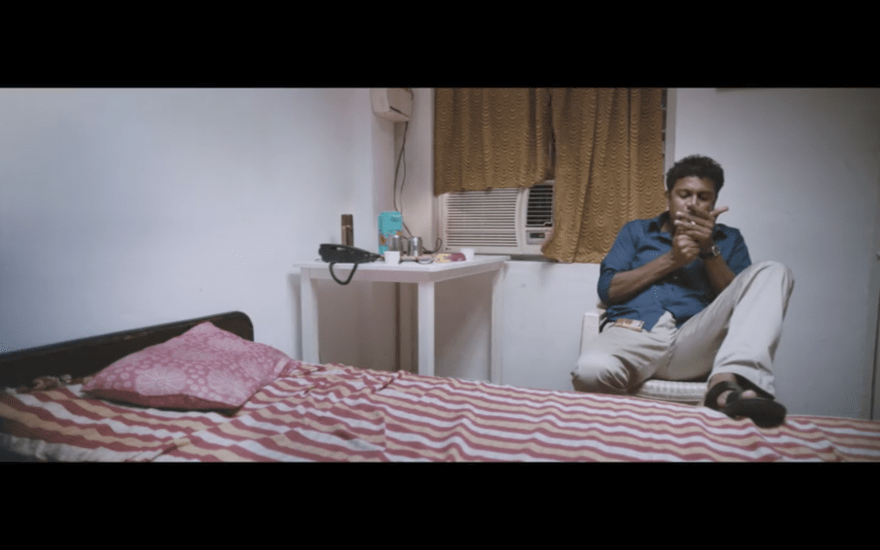 ---
Rewind and Fast Forward (Left/Right Arrow)
If I want to view a specific scene in a movie and if I know where exactly I can find that, then I'll access it directly, else, I'll use Left ← / Right → Arrow to Rewind and Fast Foward (10 seconds) the movie till I find that scene.
---
Skip Intro (S)
I'm not sure this will be available for all the movies, but for TV series, you'll find this option to skip the "Intro". I love watching the intro, but when I'm binge-watching, it's pretty annoying to see the same intro, again and again, so I press S key and skip them!
---
Toggle by Frame (Space + Ctrl)
If you press/hold Space + Ctrl keys you'll be able to get the slow-motion (frame by frame) angle of the movie, you can use this if you want to analyze a scene properly.
---
Display A/V Stats (Ctrl + Shift + Alt + D)
If you press Ctrl + Shift + Alt + D, you'll get the A/V stats on your screen, like the playing bitrate, buffer size, movie ID, framerate, etc. Not sure how exactly this will be useful for a common Netflix user, but it's good to know this, trust me.
---
Audio/Video Bitrate + CDN (Ctrl + Shift + Alt + S)
If you press Ctrl + Shift + Alt + S, you'll get a small pop-up for Audio/Video bitrate and CDN, don't mess with these settings unless you know what happens when you switch/change.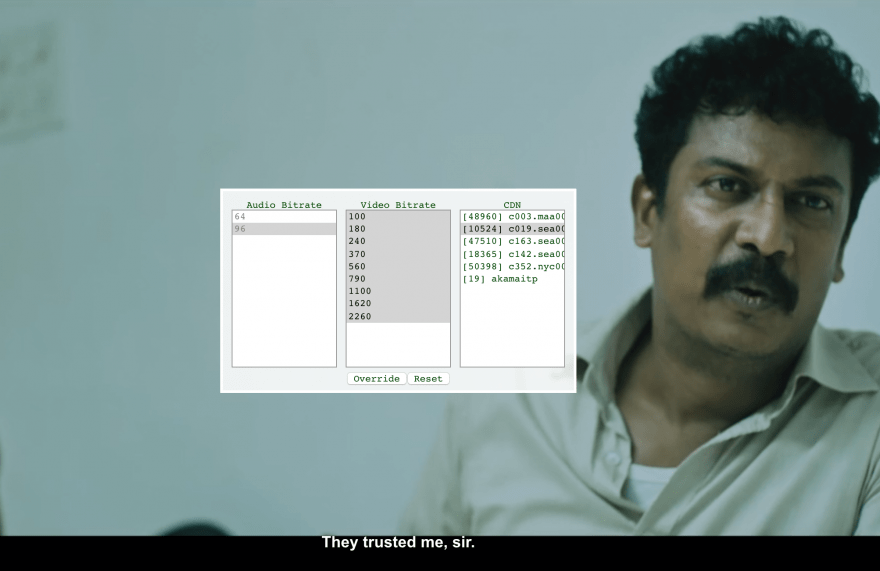 ---
Logging Window (Ctrl + Shift + Alt + L)
If you press Ctrl + Shift + Alt + L, you'll get the log details about the stream, extremely useful if you are a developer or techie, that's all.
---
I hope these are the major keyboard shortcuts/commands we need for Netflix, I personally use all of them and it helps a lot to save time as well. I'm not sure whether Netflix has a keyboard shortcut to enable/disable subtitles or do they? Or move to the next episode? We might have missed some, do kindly let us know in the comments, it'll be helpful for us to update the article. If any of the mentioned keyboard controls are not working, do let us know, please. 🙂