What are some of best anime movies to watch? It could be one heck of a task since there are so many to pick. That's why I made a list of the best anime movies to watch next. So, without any further ado let's begin. Shall we?
Top Best Anime Movies You Should Watch
Note: We arranged the list in the order they aired or released.
1. Nausicaä of the Valley of the Wind | Kaze no Tani no Naushika (1984)
Princess Nausicaa must fight Princess Kushana, the leader of the Tolmekian army to retrieve a powerful weapon which could erase human existence.
One day, an airship crashes onto the cliffs close to Valley of the Wind. Nausicaa goes to save a shackled girl of her same age from the burning wreck. Unfortunately, she passes away after telling that she is the Princess Lastelle from the Kingdom Pejite and the cargo of airship must be destroyed. The airship belongs to Tolmekia, and the cargo is an embryo of a giant warrior, which is one of the lethal and monstrous creatures used in the ancient war.
2. Vampire Hunter | Kyûketsuki hantâ D (1985)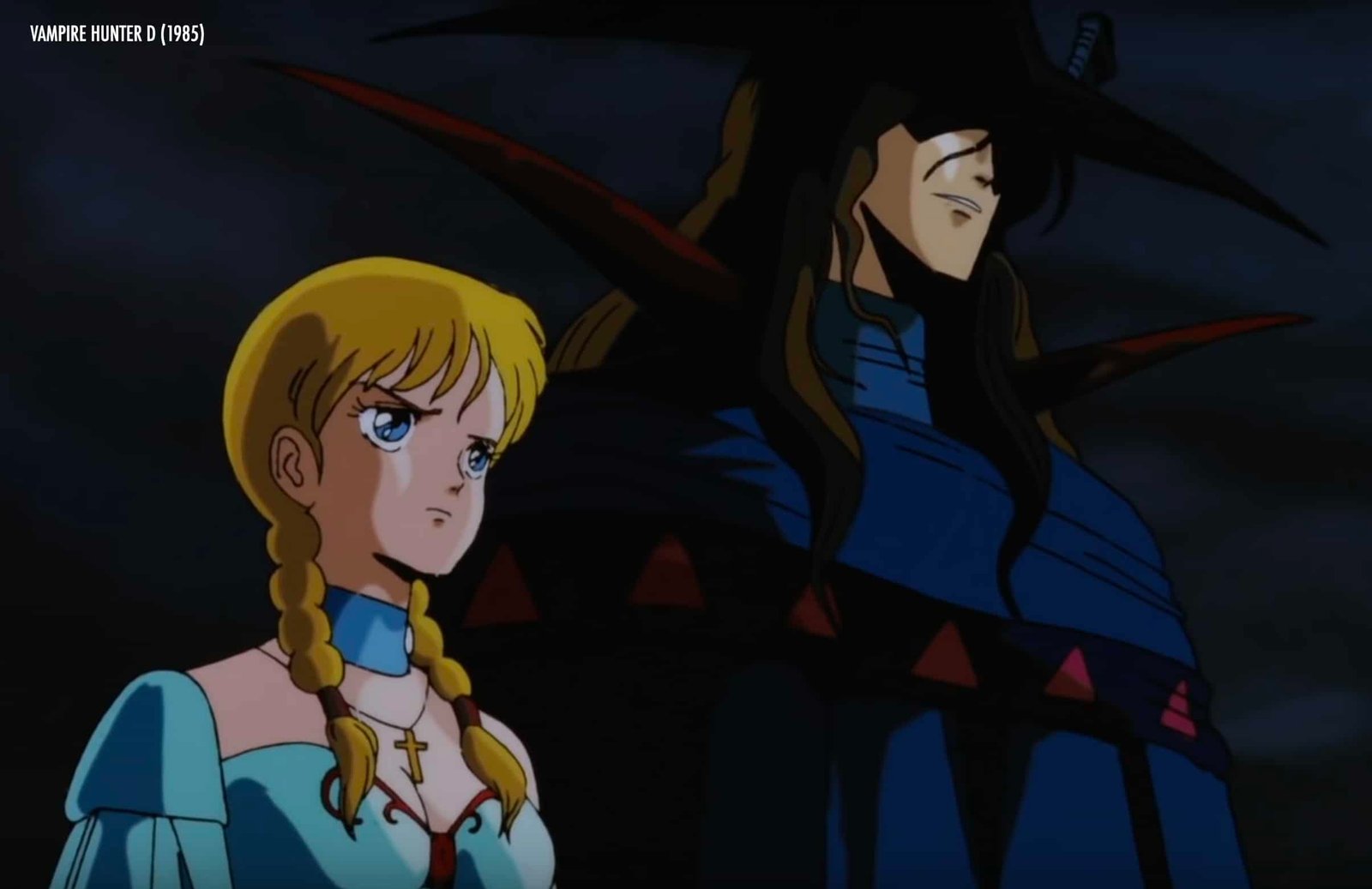 The future seems bleak for the remaining humans, who inhabit a vast wasteland and spend the majority of their time trying to outrun vicious vampires and other demonic beings.
A supernaturally skilled swordsman, known as D (Kaneto Shiozawa), is hired by mortals to search for the villainous Count Magnus Lee (Seizô Katô), who attacked a local girl recently. A bloodbath begins when D rides into lee's lair on his mechanical steed.
3. Castle in the Sky | Tenkû no shiro Rapyuta (1986)
Sheeta, a girl who is abducted by Government agent Muska, got attacked by Captain Dola and her air pirate sons as they're searching for Sheeta's crystal amulet. As a result, Sheeta falls from the airship bur her decent got slowed, and she saved by a boy later.
She falls safely in a small mining town where she is saved by a boy named Pazu, who took her into his home to recover. He tells Sheeta about a mysterious floating island Laputa and shows a picture taken by his father.
4. Grave of the Fireflies | Hotaru no Haka (1988)
In the days of World War II, the American army drops napalm canisters on Japanese canisters through firestorms. These bombs are longer than a tin can and then a moment of silence before they hit the ground and detonate, spreading explosions though surroundings. There's no way to fight this predicament with wood and paper houses in a Japanese residence.
A few months earlier; Seita and Setsuko's house got burned in a firebombing alongside most of Kobe. They escape the danger; however, their mother dies in the incident. Seita and Setsuko went to live with a distant aunt and asked to sell their mother's kimono for rice. Seita gathers all supplies he buried before the bombing and gives it to his aunt. Their Aunt becomes restless towards the children as rations shrink and the number of refugees grows and says they do nothing for food. How the siblings struggle for their lives forms the story.
5. Akira (1988)
In July 1988, a gravitational singularity concluded Tokyo and leads to World War III. Japan observes a crime wave and movement corruption especially in "Neo-Tokyo" by 2019. One night, hot-headed Kaneda commands his bōsōzoku gang, the Capsules, against their rivals, the Clowns for the fight.
During the brawl, Kaneda's best friend, the sullen Tetsuo Shima, unwittingly crashes his motorcycle into Takashi, who is a psychic esper just recently escaped from a secret government laboratory with the help of a resistance organization.
6. Kiki's Delivery Service | Majo no Takkyūbin (1989)
It is a tradition for 13-year old witches to leave home for a year to pursue their skill on the night of a full moon. Thirteen-year-old trainee witch Kiki leaves her home with her kindred spirit, i.e., a talking black cat named Jiji. She flies on her broomstick to the port city of Koriko and looks for a place to stay while she meets Tombo, a geeky boy who admires Kiki's flying ability utmostly.
Kiki starts a "Witch Delivery Business" to deliver goods on her broomstick. Her first delivery goes totally wrong as she caught in a gust and lost the black cat which she supposed to deliver. Jiji pretends to be the toy until Kiki can find the real item.
7. Only Yesterday | Omoide Poro Poro (1991)
Taeko, an unmarried 27 years old girl lived her whole life in Tokyo. She decides to visit the family of the elder brother of her brother-in-law in the countryside to assist with safflower harvesting and escape from city life.
During the travel at night on a sleeper train to Yamagata, she recalls her childhood memories as a schoolgirl, and her utmost desire to go on a vacation like her classmates.
8. Ninja Scroll | Jubei's Ninja Chronicle (1993)
In Edo period-Japan, the Yamashiro clan mines gold secretly to pay the Toyotami Shogun of dark as payment for his protection through a shipment. The Shogun of the dark decides to use the gold for buying advanced Spanish weapons to overturn the current government, the Tokugawa Shogunate.
The ship swirls into a storm in Mochizuki territory, and the Eight Devils of Kimon, a ninja team with supernatural powers in the employ of the Yamashiro, slaughter the people from the close to the village of Shimoda to keep the gold shipment a secret.
9. Ghost in the Shell | Kōkaku Kidōtai Gōsuto In Za Sheru (1995)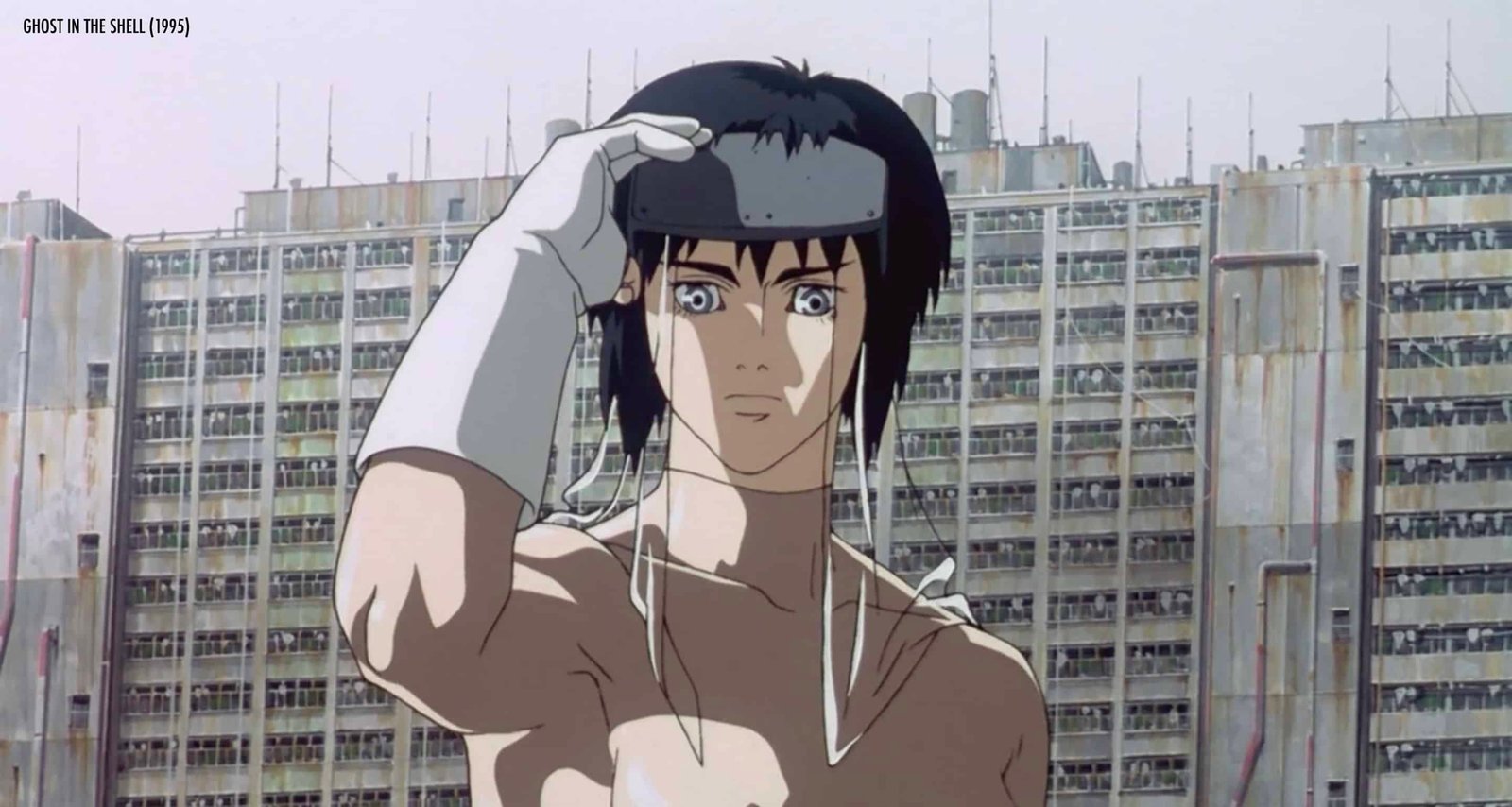 The human body can be augmented or replaced entirely with cybernetic parts in 2029. There's another achievement, i.e., cyberbrain, a mechanical case for the human brain to access to browse the internet and other networks. The common term is "ghost", which refers to consciousness of the human body (aka shell).
Major Motoko Kusanagi is an assault-team leader of "New Port City" in Japan for the Public Security Section 9. Receiving a request from Nakamura, chief of Section 6, she assassinates a diplomat of a foreign country successfully to stop a programmer called Daita from defecting.
10. Whisper of the heart | Mimi o Sumaseba (1995)
Shizuku is aa 14 years old student at Mukaihara Junior High School, who is a book lover and enthusiastic writer. She goes through the checkout cards in her library books when she notices that it has been seen by Seiji Amasawa. Later, Shizuku confronts a young man, who turns out to be Seiji.
Shizuku follows a cat on a train and finds out an antique shop which runs by Shiro Nishi. There's a cat statue, "The Baron". She sings "Take Me Home, Country Roads", later in the shop and looks like Seiji is the grandson of Nishi. Both of them become friends with each other and begin their journey towards their dream.
11. Princess Mononoke | Mononoke-hime (1997)
In Muromachi Japan, A demon attacked Emishi village. The last Emishi prince, Ashitaka, eliminates it before it brings havoc to the village but his arm gets a curse in the fight. Even though the curse grants him superhuman strength; it is going to spread through his body to kill him ultimately.
Heading to the west, Ashitaka meets Jigo, a wandering monk, who tells Ashitaka that he may find a cure from the Great Forest Spirit, a deer-like animal god by day and a giant "nightwalker" by night.
12. Spirited Away | Sen to Chihiro no Kamikakushi (2001)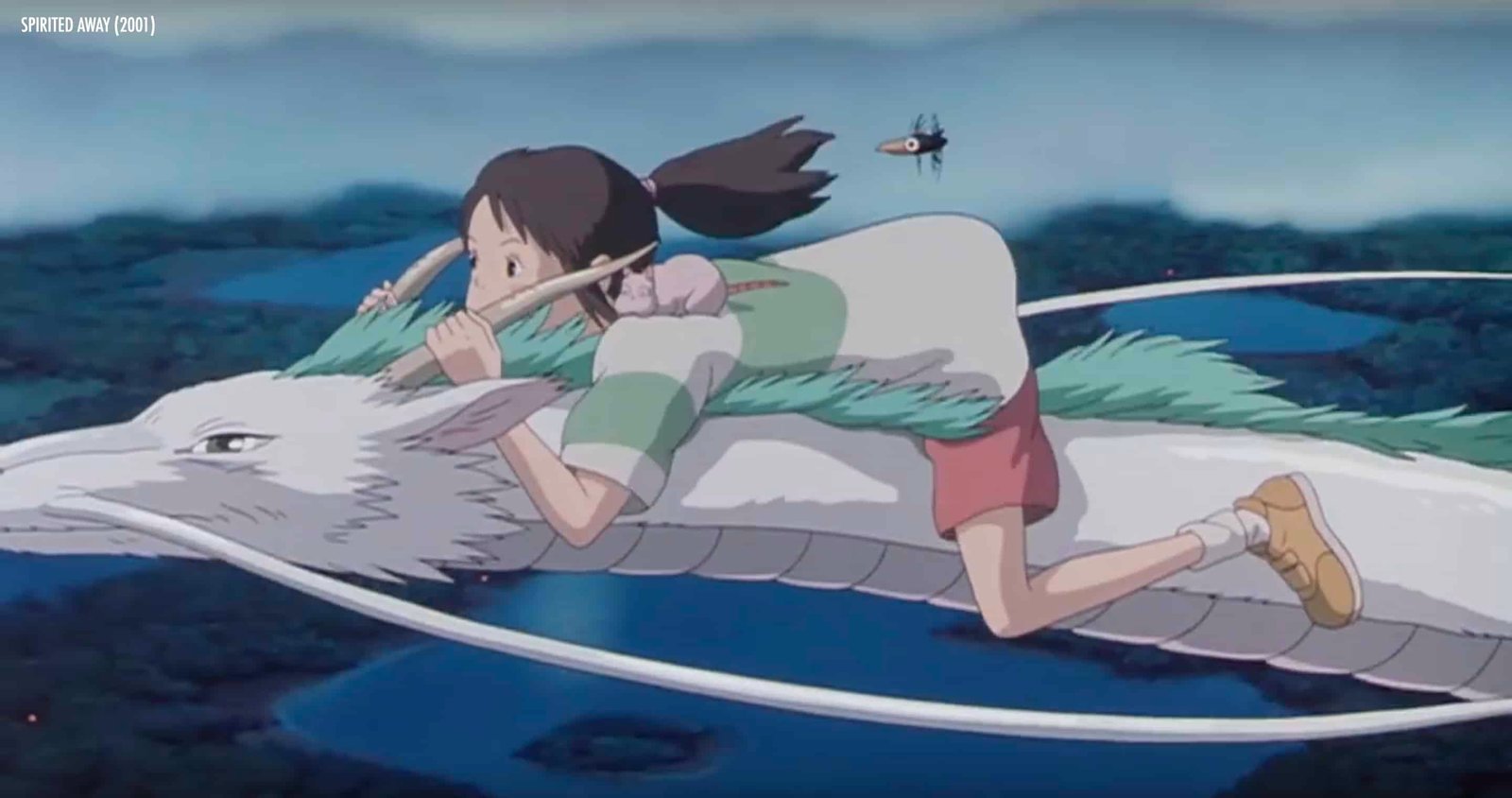 Ten-year-old Chihiro Ogino and her parents are traveling to their new home when her father takes a wrong turn. They step into a magical world unknowingly out of Chihiro's father wish for exploring.
Later, Haku finds Chihiro and gets her a job from the bathhouse's boiler-man, Kamaji, a spider yokai who commands the susuwatari. Kamaji refuses to work for her as he has soot spirits, but he sends Chihiro to the witch, Yubaba, who runs the bathhouse out of sympathy.
13. Metropolis | Metoroporisu (2001)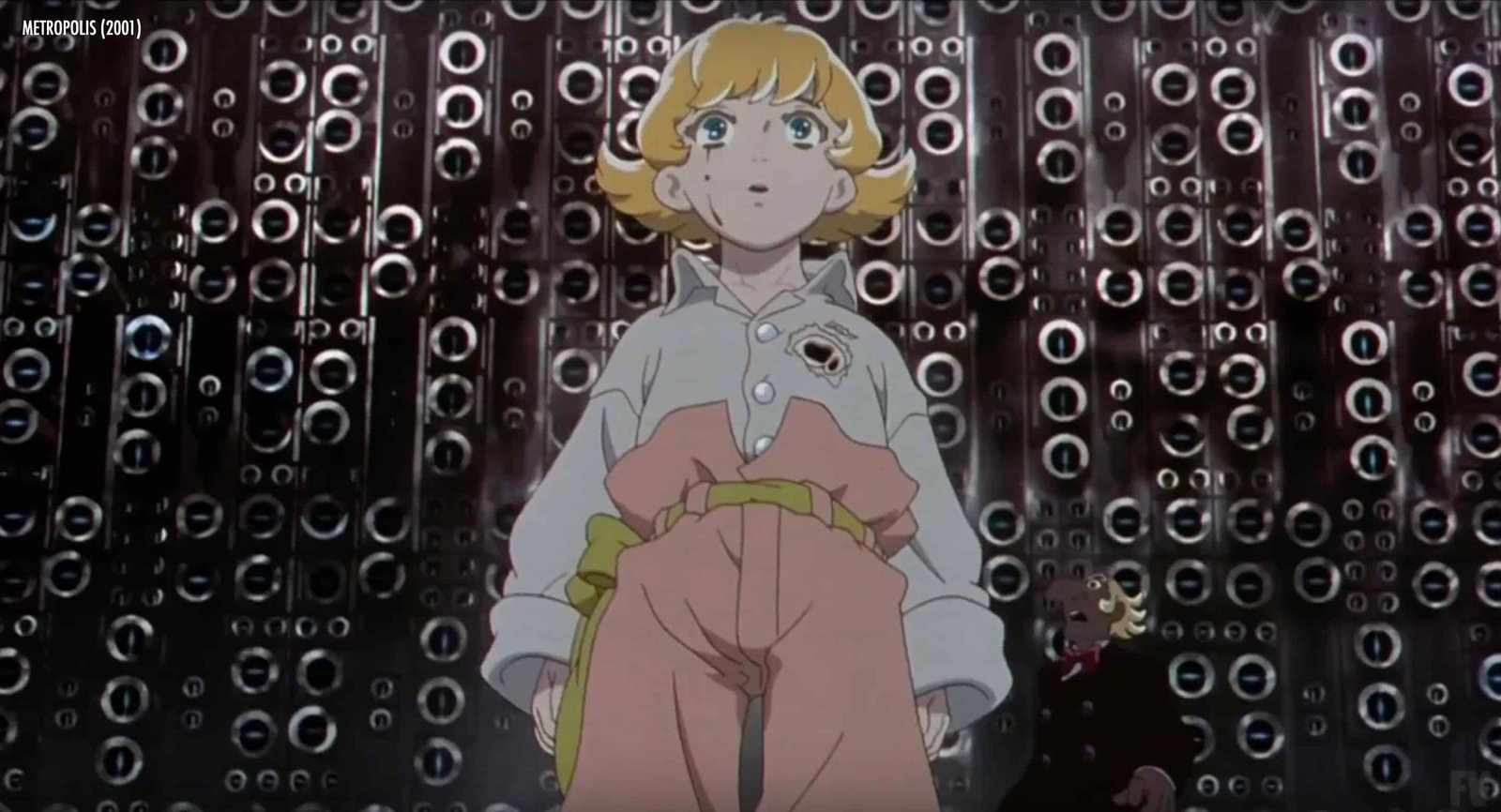 Humans and robots coexist in the futuristic city of Metropolis, but robots are discriminated and segregated to lower city levels. A majority of human population is jobless, and most people blame it on the robots.
Duke Red, the unofficial ruler of Metropolis, has supervised the construction of a massive skyscraper called the Ziggurat to spread its power across the planet for mankind. A delinquent robot intrudes the Ziggurat's opening ceremony, only to be shot down by Rock, adopted son and the head of the Marduk Party. It's a vigilante group with an aim to evoke anti-robot attitudes.
14. Tokyo Godfathers | Tokyo Goddofazazu (2003)
On a Christmas Eve, three people found a newborn baby with a note while skimming through the garbage. It is said to take good care of baby along with a bag which has a clue of the baby's parents identity. Hence, the trio begins their journey to find the parents.
Later, the group meets a high-ranking yakuza trapped under his car. It turns out that he knows the owner of the club where Kiyoko's mother worked before, and his daughter is getting married to the club owner on that day. They attend the wedding and learn that baby's mother is a former bar girl, named Sachiko. He gives the trio Sachiko's address, but the party is interrupted by a maid, who is a Latin American hit man in disguise.
15. The Girl Who Leapt Through Time | Toki o Kakeru Shōjo (2006)
Makoto Konno finds a message on a blackboard and unwittingly falls upon a walnut-shaped object. Makoro loses her bicycle brakes and ejects in front of an upcoming train. However, she finds herself reverted back in time at the point when she was on her bicycle before the accident.
Makoto begins to use her time to leap ability to get out the messy situation, after that. It consists of a love confession from her best friend, Chiaki Mamiya. Makoto discerns that she has a numbered tattoo on her arm to indicate the limited number of leaping times she can use.
16. 5 Centimeters per Second | Byōsoku Go Senchimētoru (2007)
Takaki Tōno quickly becomes friend with Akari Shinohara when she transfers to his elementary school in Tokyo. They get along with each other due to same interests and attitudes like they both stay inside the recess for their seasonal allergies.
Aakri moves to the nearby area of Tochigi after graduation from elementary school due to her parent's job. However, they both stay in contact by letters, but they begin to drift apart over the time.
17. Ponyo | Gake no Ue no Ponyo (2008)
Fujimoto was a human wizard/scientist, who lives underwater with her daughter, Brunhilde, and her several smaller sisters. Brunhilde sneaks out and floats away on the back of a jellyfish while her siblings went out with their father in his four-flippered submarine.
Sosuke injures his finger while opening the jar with the rock, then Brunhilde licks his wound to heal it immediately. Sosuke gives her a name, Ponyo and decides to take care of her. On the other hand, Fujimoto looks for her for her lost daughter desperately as he thinks that she has been kidnapped.
18. Summer Wars | Samā Wōzu (2009)
Kenji Koiso (Ryunosuke Kamiki) is a young student with a gift of mathematics and a part-time in the massive computer-simulated virtual reality world OZ with his friend Takashi Sakuma (Takahiro Yokokawa).
One day, Kenji is called by a fellow Kuonji student Natsuki Shinohara to participate in the 90th birthday of her great-grandmother Sakae Jinnouchi. After reaching to Sakae's estate in Ueda, Natsuki introduces Kenji as her fiance to surprise them both.
19. The Secret World of Arrietty (2010) | Kari-gurashi no Arietti (2010)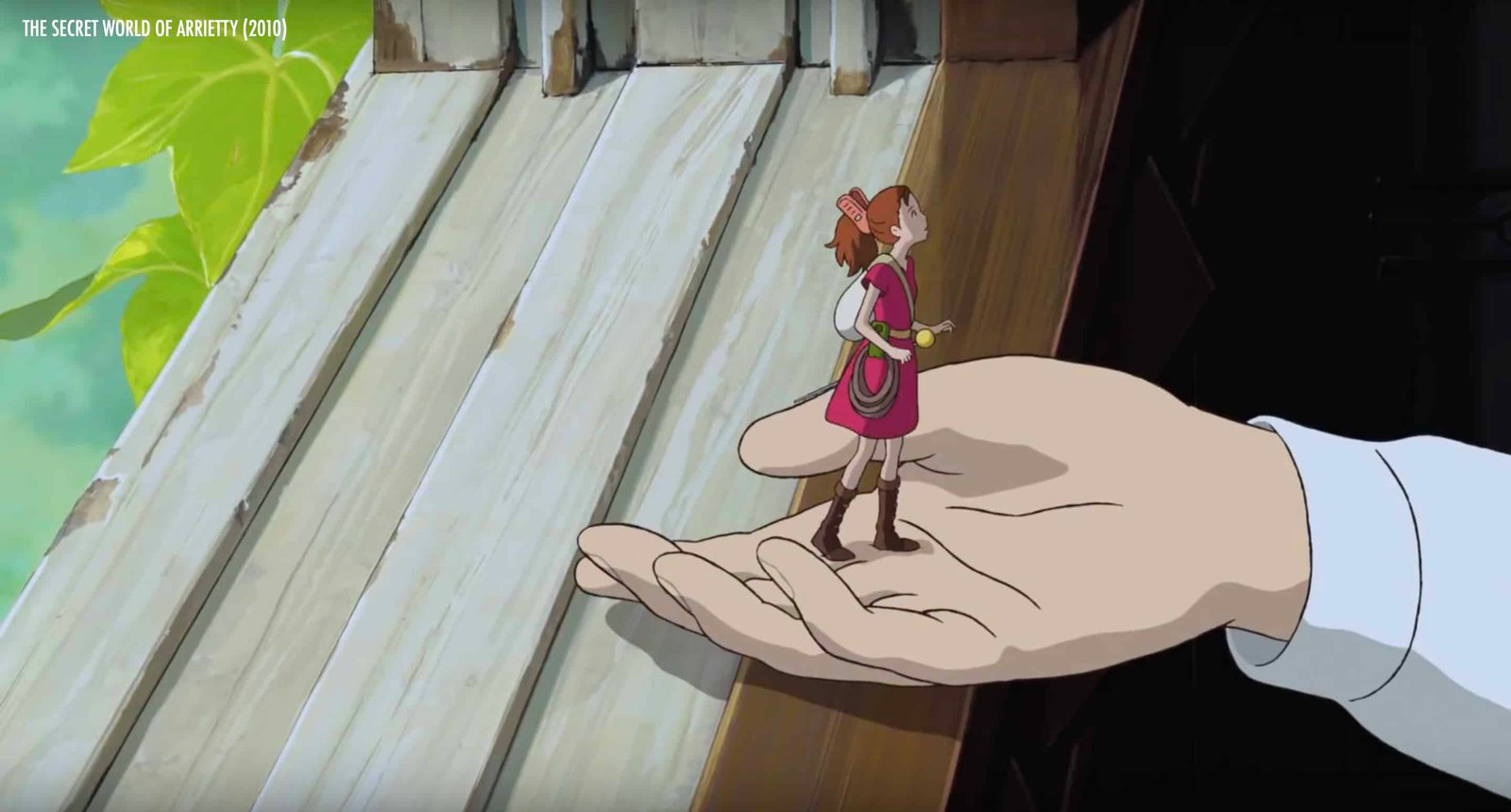 A boy named Shō tells the audience he still remembers the week in summer he spent at his mother's childhood home with his maternal great-aunt, Sadako, and the housemaid, Haru.
At night, Arrietty's father, Pod, takes her on her first "borrowing" mission, to get sugar and tissue paper. After obtaining a sugar cube from the kitchen, they travel inside a hollow wall to a bedroom which they enter through an intriguing dollhouse with working electric lights and kitchen utensils.
20. Wolf Children | Ōkami Kodomo no Ame to Yuki (2012)
Hana, a college student in Tokyo, Japan got into a relationship with a werewolf and had two children's, a boy: Ame and a girl: Yuki. While searching for food for his family, Hana's husband got killed in an accident, unfortunately.
As a single mother, her life becomes very tough with two little werewolf children's. Ame and Yuki were frequently altering their human and werewolf forms when social workers and her neighbors visit her house to check about Ame and Yuki's health. Hana leaves that place as soon as possible in order to keep their identity safe. She works extremely hard to repair a broken house and feed her children's with the crops they own.
21. The Garden of Words | Koto no ha no Niwa (2013)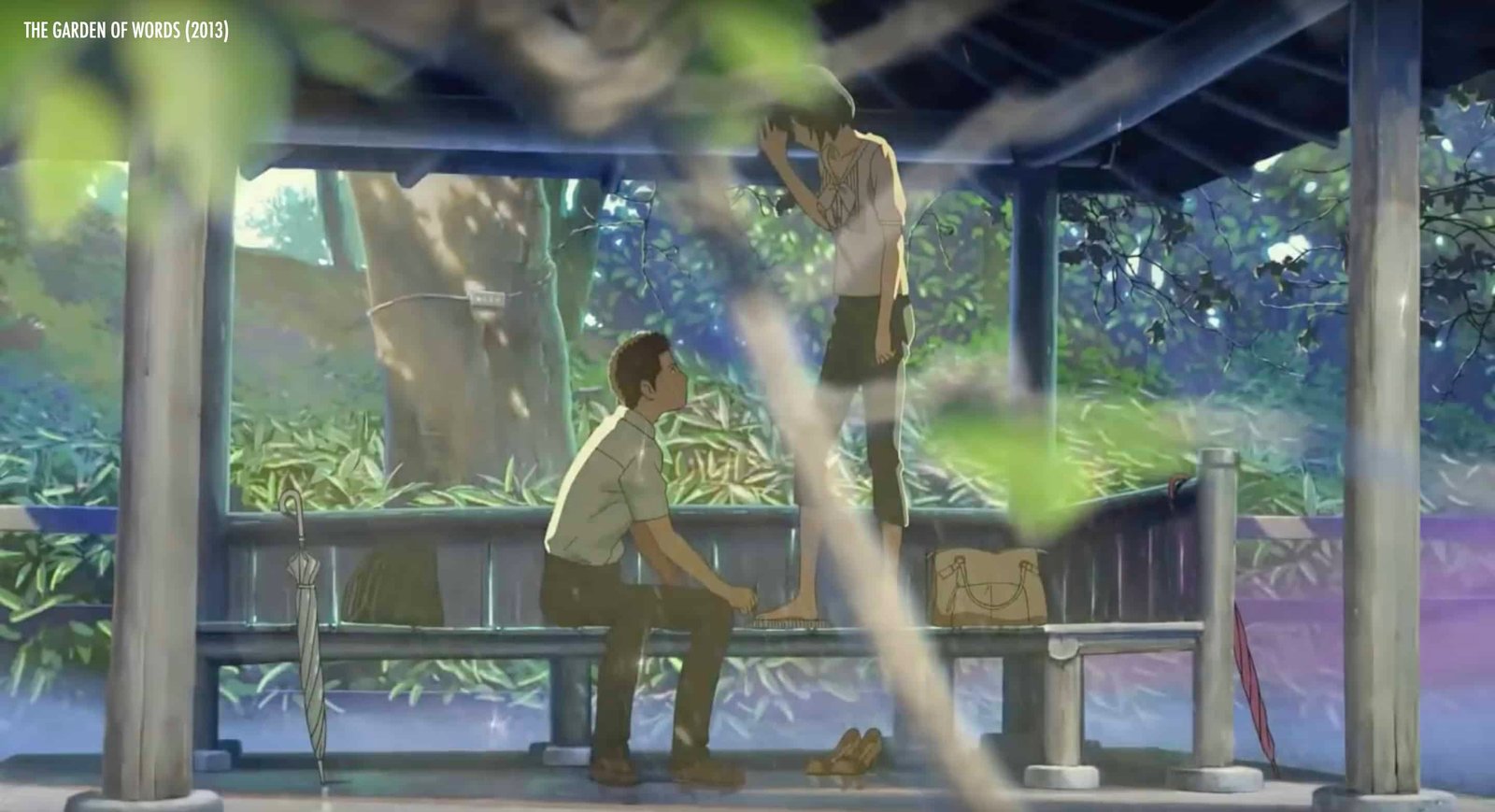 The Garden of Words falls under the category of romance and drama. The scenery based on a rainy season in Tokyo. In the film Takao Akizuki, a 15-year-old high school student who aspires to become a shoemaker, that's why most of the time he skips classes to sketch shoe designs at his usual place, the garden of Shinjuku Gyoen.
One day he comes across Yukari Yukino, a beautiful 27-year-old woman who was sitting there and enjoying her beer and chocolate while gazing at the rain. Once the summer break was over, Takao comes back to school to attend classes, but there he notices Yukari and a friend told him she is a literature teacher and always had been the victim of gossip and bullying.
22. The Wind Rises | Kaze Tachinu (2013)
Jiro Horikoshi wants to become a pilot, but he held back due to his eyesight. He reads about the famous Italian aircraft designer Giovanni Battista Caproni, and dream about at night. Caproni tells him that he has never piloted a plane in his life and making planes is better than flying them.
After five years, Jiro is traveling on a train to study aeronautical engineering at Tokyo Imperial University, and he meets a young girl, Naoko Satomi along with her maid in the journey. As the Great Kanto Earthquake of 1923 hits, Naoko's maid's leg is fractured and so, Jiro takes her to Naoko's family and leaves the place without telling his name.
23. When Marnie Was There | Omoide no Mānī (2014)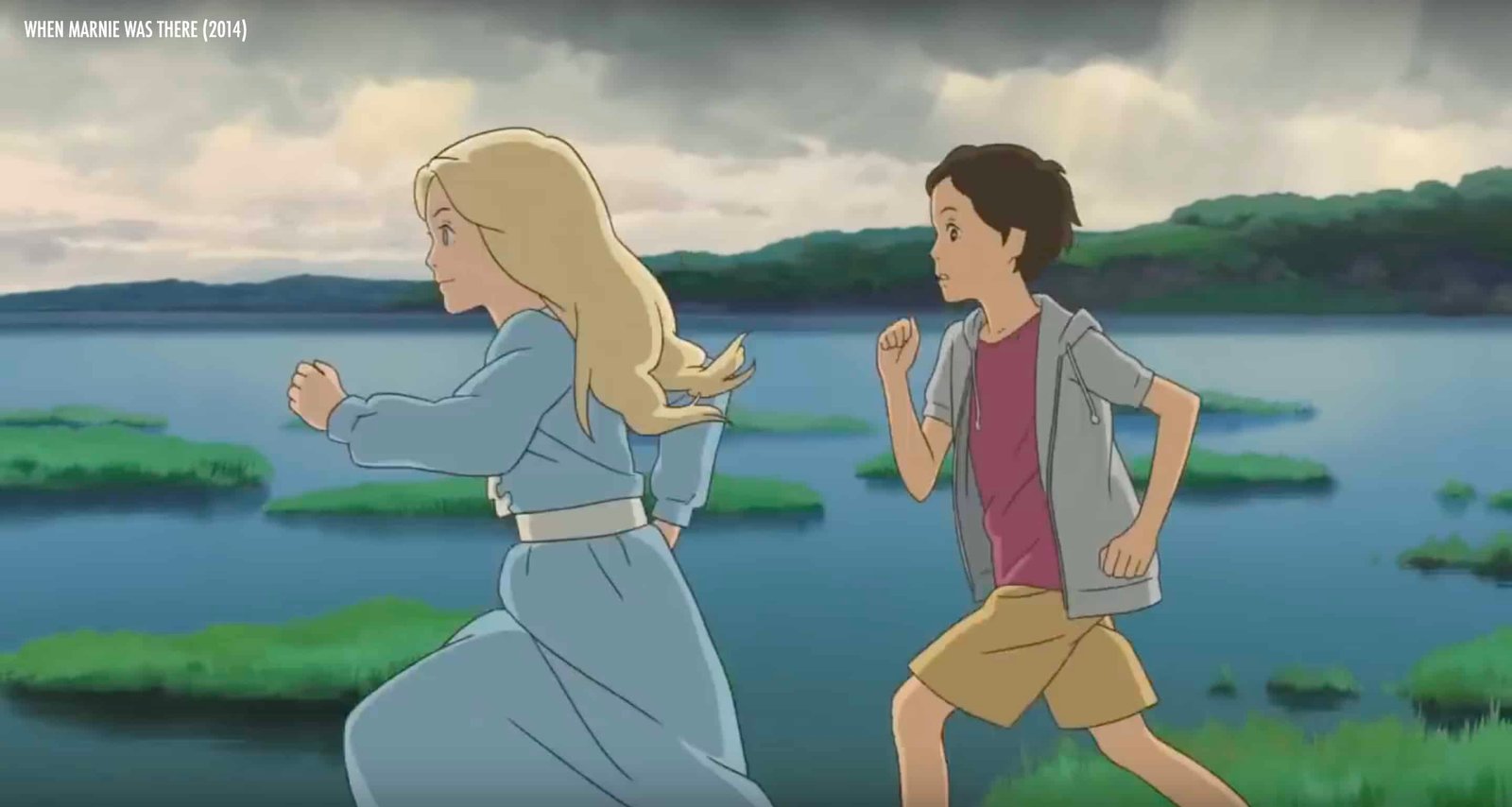 Anna Sassaki is a 12 years old introvert, who lives in Sapporo with her foster parents, Yoriko and her husband. One day, she collapses from Asthma attack in the school. Yoriko talks to Anna's doctor and her parents decide to send him to a rural seaside town for clear air.
Anna finds an abandoned mansion around a salt marsh and enters to explore it. She walks around and gets stuck by the tide until she is found out by Toichi, an old fisherman. Later, she learns that the mansion used to be a vacation home for some foreigners, and it is empty for a long time. But from the night, Anna dreams a blonde girl in the mansion.
24. A Silent Voice | Eiga Koe no Katachi (2016)
Shoya Ishida, a delinquent boy who bullied Shoko Nishimiya, his deaf classmate along with his friends back at elementary school. But it changes when Nishimiya transferred, and it results in all of his friends and teachers are turned against him to put him to the point where he decides that friends are unimportant.
Ishida reunites with Nishimura and sees that she is still lonely due to her shyness. He decides to reconnect Nishimiya with their old classmates which he couldn't able to do before.
25. Your Name | Kimi no Na wa (2016)
High school girl Mitsuha lives in the town of Itomori in Japan's mountainous Hida region. She longs to be a handsome boy in her next life. She switches body with Taki, a high school boy in Tokyo when they wake p. They communicate with notes, memos and write on each other skin sometimes.
Taki, as Mitsuha, visits her grandmother and sister to leave the ritual alcohol kuchikamizake, to present it as an offering at the shrine on a mountaintop outside the town. The shrine is believed to be the body of the village guardian god who controls human experiences and connections. Mitsuha's latest note informs Taki about a comet to reach Earth on the day of her town festival.
Conclusion
You came through a long list of the best anime movies based on the release up until now. All of these are a masterpiece without a doubt, and so you shouldn't miss a single one if possible. But where would you go to stream your favorite anime movies? Let me tell you some of the best anime streaming sites with ad-free HD experience.
Crunchyroll is most popular real-time anime streaming site with loads of anime content for just $6.95/month. But you can try some other networks like Funimation, VRV, Netflix, Amazon Prime, etc. You should always support the official release as you are getting so much within a reasonable price. You can go to YouTube to watch for free if you can't afford to pay right now. Also, you can avail the free trial before paying for real.
What is your reaction after watching some of the movies from here? Let me know your thoughts and don't forget to share these awesome anime movies with your friends as well.