Continuation of "40+ Horror Movies Inspired By True Events" (Part Two)
22. Bram Stoker's Dracula (1992)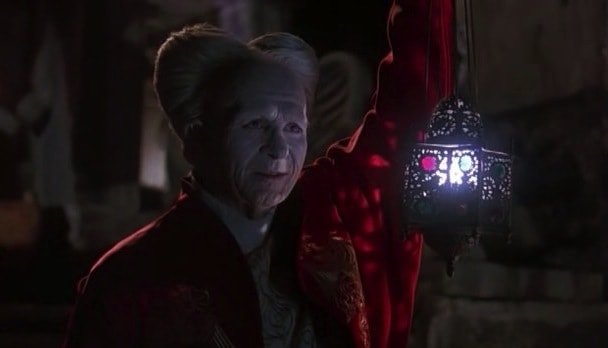 Storyline: The vampire comes to England to seduce a visitor's fiancée and inflict havoc in the foreign land.
True Event: Vlad the Impaler is the Prince of Wallachia (now Romania). Vlad III's family name "Dracul" means "The Dragon." During the 15th century, his brutality in fighting the Ottoman Empire was legendary; he almost killed tens of thousands. This inspired the movie makers depicting Vlad during "The Impaler Years," forsaking God like some Romanian Sid Vicious.
---
23. The Ghost and the Darkness (1996)
Storyline: In 1896, a construction engineer from the British Army, J.H. Patterson is sent to build a railway bridge across Uganda's Tsavo River for the British East African Railway. Soon after he arrives, workers begin to disappear at night from their tents – never to be seen alive again. The engineer soon discovers that a pair of man-eating lions are stalking around the bridge and campsites, killing the workmen for food.
True Event: The film is based upon The Man-Eaters of Tsavo by Lieutenant Colonel John Henry Patterson, the man who actually killed both real lions.
---
24. Ravenous (1999)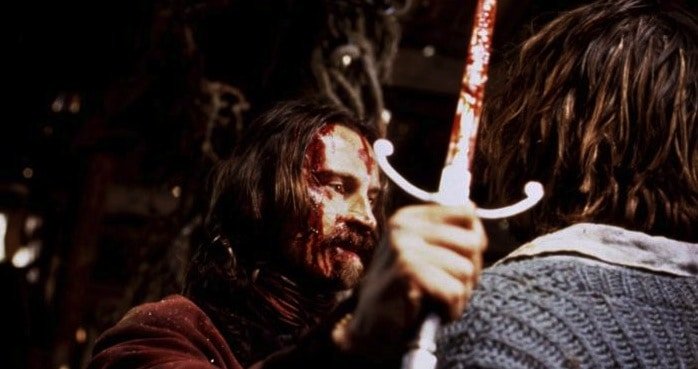 Storyline: Captain John Boyd's promotion stations him at a fort where a rescued man tells a disturbing tale of cannibalism.
True Event: The film revolves around cannibalism in 1840s California and some elements bear similarities to the story of the Donner Party and that of Alferd Packer. Screenwriter Ted Griffin lists Packer's story, as recounted in a couple of paragraphs of Dashiell Hammett's The Thin Man, as one of his inspirations for Carlyle's character.
---
25. From Hell (2001)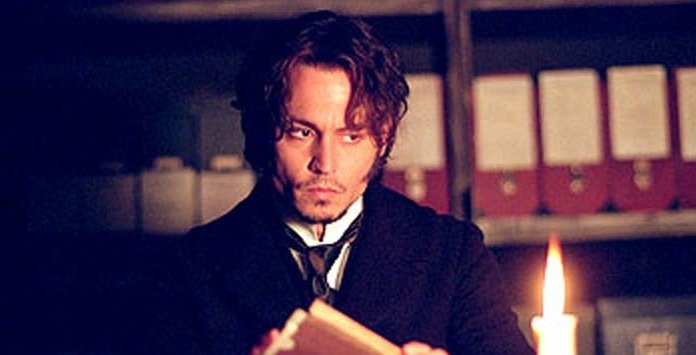 Storyline: This movie's story goes around Jack the Ripper through the eyes of one of the investigators played by Johnny Depp, a troubled clairvoyant police detective. The film is to the point, violent and visually impressive as it takes you through the actual murders. An horrifying account of the murders and its aftermath.
True Event: In 1888's, a notorious serial killer by the name of Jack the Ripper horrified east side London with him murdering prostitutes in Whitechapel. He was never caught and Ripperologists who still study his killings and mechanism, consider him the best mastermind ever. He wrote letters with the victims' blood and kidney attached to it; he was out in the open with an unknown number of murders. A very intriguing period in criminology and victimology, Jack The Ripper's killings are an all-time favorite mystery discussion.
---
26. The Mothman Prophecies (2002)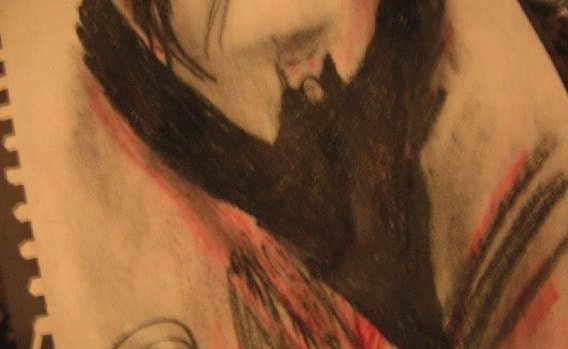 Storyline: Reporter John Klein gets lost while driving and ends up in Point Pleasant, West Virginia, where he encounters the so-called Mothman, a winged creature whose appearance seems to foretell disastrous events — notably, the collapse of a bridge over the Ohio River leading to Point Pleasant.
True Event: Reports of sightings of a large, unidentified winged creature — dubbed the Mothman — occurred in Point Pleasant, West Virginia for 13 months between 1966 and 1967. Also, on December 15, 1967, the Silver Bridge collapsed, killing 46 people. Maybe loch ness monster theory will come up as another horror movie to rock the block.
---
27. Dahmer (2002)
Storyline: Based on the true crime story of serial killer Jeffrey Dahmer, this movie tells the emotionally riveting story of a man who turned his darkest fantasies into a horrifying reality.
True Event: Jeffrey Lionel Dahmer was an American serial killer and sex offender. Dahmer murdered 17 men and boys between 1978 and 1991, with the majority of the murders occurring between 1987 and 1991. His crimes involved rape, dismemberment, necrophilia and cannibalism.
---
---
28. Open Water (2003)
Storyline: This movie is similar to "Jaw" trip, this movie was about the scare, the fright of being stranded alone. Alone in the ocean, surrounded by sharks. Two couples encounter in such situation, and the scare rendered it another scary movie of the decade.
True Event: In January 1998, married couple Tom and Eileen Lonergan disappeared off Australia's Great Barrier Reef after a diving company accidentally left them behind in the water. It took two days for the crew to realize that they left the couple behind. A search was conducted, but their bodies were never found. Belongings discovered weeks later showed no signs of the violent shark attack, though the film includes some.
---
29. Romasanta: The Werewolf Hunt (2004) | Romasanta (original title)
Storyline: An uproar is caused when some mutilated corpses are discovered, giving way to the legend of the "Werewolf of Allariz." A traveling vendor rolls through the forest in his old wagon. A woman from every village on his route faithfully awaits him.
True Event: Based on a script by Alfredo Conde, according to the end credits the film is based on a true story, that of Manuel Blanco Romasanta, Spain's first documented serial killer.
---
30. The Exorcism of Emily Rose (2005)
Storyline: A priest is on trial for the death of a young woman named Emily Rose, upon whom he had performed an exorcism. Through flashbacks, we see the tribulations that she suffered while possessed. Another exorcism conquest and another variety of supernatural conflict.
True Event: The film was inspired by Anneliese Michel, a 16-year-old German girl who in 1968 began displaying symptoms of demonic possession. She suffered paralysis, self-abuse, starvation and demonic visions for years until 1975. When two priests performed exorcisms of what was believed to be several demons over ten months.
---
31. Wolf Creek (2005)
Storyline: This is a horror tale of two female British tourists and an Australian man venture into the Australian Outback to camp in Wolf Creek National Park. When their car breaks down, they're rescued by a tow truck driver who ends up holding them captive and torturing them.
True Event:The inspiration behind this movie horror includes Bradley John Murdoch, who killed a British tourist and tried to abduct another in July 2001 and Ivan Milat, who picked up hitchhikers and took them into the woods to torture and kill them during the '90s. They were both later captured and sentenced to life in prison.
---
32. An American Haunting (2005)
Storyline: An all American family in a good suburban with lots of paranormal haunting to creep you out. Nineteenth-century landowner John Bell and his family are tormented by an invisible entity, which targets his daughter Betsy in particular.
True Event: The movie is based on the legend of the Bell Witch, a tale that originated in Tennessee in the 1800s. John Bell was poisoned by the ghost. The filmmakers announced that this is validated by the State of Tennessee as the only case in US history where a spirit has caused the death of a human being. But there is no such validation on record yet it is believed to be true.
---
33. The Zodiac (2005)
Storyline: An unknown man attacks and murders don't-know-how-many unlucky bodies around the country and leave letters, messages, suspects, and terror. He is never caught even when effective police force gets obsessed with the case.
True Event: A serial killer who was active in and around Northern California in the 1960s and who has never been captured used to kill random victims with brutality and left messages all around. Lots of clues but none leading to the killer. He was one of the most prolific serial killers of all times.
You can also consider Zodiac (2007) movie.
---
---
34. Them (2006) | Ils (original title)
Storyline: Lucas and Clementine live peacefully in their isolated country house, but one night they wake up to strange noise… they're not alone… and a group of hooded assailants begins to terrorize them throughout the night.
True Event: Though there is no real evidence anywhere, it is believed that the filmmakers are doing something akin to what the Texas Chain Saw Massacre did. It claims to be based on a fact, but it had so little resemblance to actual incidents.
---
35. Grimm Love (2006) | Rohtenburg (original title)
Storyline: In Germany, as graduate student Katie Armstrong researches cannibal killer Oliver Hagen for her thesis. She becomes obsessed with her subject and ultimately plunges into a lifestyle similar to Hagen's and the thousands of people like him.
True Event: This film is inspired by the Armin Meiwes cannibal murder. He is a German man who achieved international notoriety for killing and eating a voluntary victim whom he had found via the Internet.
---
36. Primeval (2007)
Storyline: An American news crew travels to Burundi to chronicle the capture of a man-eating crocodile, which ends up being 30 feet long and responsible for over 300 deaths.
True Event: The story is based on Gustave, a 20-foot-long crocodile living in Burundi. It is said to be the largest crocodile on record on the African continent. It is rumored to have killed 300 people. High-profile attempts to capture Gustave have failed, and the creature, believed to be over 65 years old still lives in the Ruzizi River area of Burundi, according to them.
---
37. Borderland (2007)
Director: Zev Berman
Casting: Brian Presley, Rider Strong, Damian Alcazar
Storyline: The Mexican Cartels tapped a man to be their enforcer and he also had a satanic site and took to ritually killing hundreds of people and torturing them in all kinds of sadistic and disgusting ways. The only good news is this killer won't be able to get you since he died in a massive hail of bullets at the hands of Mexican Special Police.
True Event: Based on the true story of Adolfo de Jesús Constanzo. He was the leader of a religious cult that practiced human sacrifice. They normally dismembered human bodies and offered as a sacrifice. Costanzo and his followers kidnapped and murdered Mark Kilroy in the spring of 1989.
---
38. The Girl Next Door (2007)
True Event: The film is loosely based on real events surrounding the torture and murder of Sylvia Likens by Gertrude Baniszewski during the summer of 1965.
---
---
39. The Strangers (2008)
Storyline: After returning from a wedding reception, a couple staying in an isolated vacation house receive a knock on the door in the mid-hours of the night. What ensues is a violent invasion by three strangers, their faces hidden behind masks. The couple find themselves in an intense struggle, in which they go beyond what either of them thought capable of surviving.
True Event: Director Bryan Bertino stated that the film was inspired by a series of break-ins that occurred in his neighborhood as a child, as well as some incidents that happened during the Manson killings. Bryan Bertino said the film was inspired by the infamous Manson murders.
---
40. The Haunting in Connecticut (2009)
True Event: The movie is loosely based on the real-life stories of Al, and Carmen Snedeker who lived in a reportedly haunted former funeral parlor in Southington, Connecticut.
---
41. The House of the Devil (2009)
True Event: It is similar to the techniques used in some horror films such as The Texas Chain Saw Massacre and The Amityville Horror. Satanic Panic certainly caused a lot of commotion during the Reagan era.
---
42. he Silent House (2010) | La casa muda (original title)
Storyline: The film focuses on Laura, who, second by second, intends to leave a house which hides an obscure secret, unharmed. Laura and her father Wilson settle down in a cottage they have to renew since its owner will soon put the house up for sale.
True Event: The plot is based on a true story that happened in the late 40's in a small village in Uruguay.
---
43. The Possession (2012)
Storyline: A young girl buys an antique box at a yard sale, unaware that inside the collectible lives a malicious ancient spirit. The girl's father teams with his ex-wife to find a way to end the curse upon their child.
True Event: This story plot is inspired by a true event happened to one family over the course of 29 days.
---
44. The Conjuring (2013)
Storyline: Paranormal investigators Ed and Lorraine Warren work to help a family terrorized by a dark presence in their farmhouse.
True Event: Ed and Lorraine Warren investigated the Perron's Rhode Island farmhouse for mysterious activities from 1973-1974.
---
45. Deliver Us From Evil (2014)
Storyline: New York police officer Ralph Sarchie investigates a series of crimes. He joins forces with an unconventional priest, schooled in the rites of exorcism, to combat the possessions that are terrorizing their city.
True Event: Based on the real-life events of Ralph Sarchie, a New York cop who meets a Castilian priest when he is pulled into a case which the priest convinces him, against the officer's religious beliefs, is demonically related.
---
46. Annabelle (2014)
Storyline: A couple begin to experience terrifying supernatural occurrences involving a vintage doll shortly after their home is invaded by satanic cultists.
True Event: Based on the real life case from the files of Ed and Lorraine Warren.
---
---
40+ excellent horror movies based on true stories and events! Do let us know if you are aware of any such horror movie based on or inspired by actual real events, we'll add them to this post with your credit. Also if you find this post useful, do share.