India produces the highest number of movies in a year. India is known for its culture and diversity. What's better than watching a couple of movies to know more about a country? Here are 5+ Movies you can see to learn more about India.
Best Movies To Learn More About India
Pather Panchali (1955)
Pather Panchali (1995) is a drama film based on a novel of the same name by Bibhutibhushan Bandyopadhyay. Pather Panchali is a story of a young boy 'Apu' and his life in a small Indian village. Apu's father Harihar Roy (played by Kanu Banerjee) is a priest and earns a meagre living. Harihar has dreams of a better career as a poet and moves to the city in prospects of a better life. He promises his wife Sarabjaya (played by Karuna Banerjee) that he will return with money. Sarabjaya sells her possessions to put food on the table. While Harihar is gone Durga (Harihar's daughter) dies because of heavy rain and lack of medical attention. When Harihar returns, Sarabjaya breaks down and tells him that Durga died. Apu and family leave the village. Ray beautifully captures the life of a poor family in a small Indian village. Satyajit Ray later made Aparjito (1956) and Apur Sansar (1959) succeeding Pather Panchali. The three films are better known as The Apu Trilogy.
---
Lagaan (2001)
Lagaan (2001) is a story set in a small village Champaner in the state of Gujarat. The village is under cantonment of Captain Andrew Russell (played by Paul Blackthorne) who imposes high taxes (lagaan) on villagers. Villagers are not in the state to pay even half of it because of a prolonged drought. They approach their King for a solution, but the king refuses to help to say that he has to abide by the rules of Britishers. After their meeting with the King, they witness a cricket match and mock the game. Bhuvan gets into a fight with the Captain, and Captain challenges him for a cricket match. Captain says that if your teams win, we will waive off the tax for three years but if our teams win you have to pay double the taxes. Bhuvan accepts the challenge without consulting with fellow villagers. The story follows, and Ashutosh Gowariker shows how a bunch of villagers who has never played cricket beats a well-trained team. Lagaan was nominated for the Academy Award for Best Foreign Language Film in the year 2001.
---
The Legend of Bhagat Singh (2002)
The Legend of Bhagat Singh (2002) is a film based on India's freedom fighter Bhagat Singh. Bhagat Singh (played by Ajay Devgn) born in British India during 1908. While he was a child, he was impressed by Mahatma Gandhi's non co-operation movement. When Lala Lajpat Rai was beaten to death by police, Bhagat Singh along with Rajguru and Sukhdev decided to carry out the assassination of a police officer named Saunders. The film shows how East India Company, who came to India to trade but ended up controlling most of the nation and how innocent Indians were massacred in the Jallianwala Bagh. Ajay Devgn won a National Award for his role of Bhagat Singh in this film.
---
Swades (2004)
Another Ashutosh Gowariker film in the list, Swades (2004) is about a scientist working in NASA in the US. He decides to visit India and bring his mother-like Kaveri amma along with him. Later he finds out that Kaveri amma has left the old age home and went to Charanpur. Mohan (played by Shah Rukh Khan) decides to go to Charanpur to meet Kaveri amma. Mohan discovers a whole new side of India and how the unprivileged are suffering. He falls in love with a girl Geeta (played by Gayatri Joshi) in the village. Kaveri amma refuses to go with Mohan and seeing the situation Mohan doesn't force her. Mohan flies back to the US but later he feels nostalgic and decides to leave the comfort and move back to India. Swades is one of my favorite Hindi movies. This movie has an amazing music by A.R Rahman and amazing cinematography by Mahesh Aney. Those amazing villages shots will make you fall in love with India.
---
Water (2005)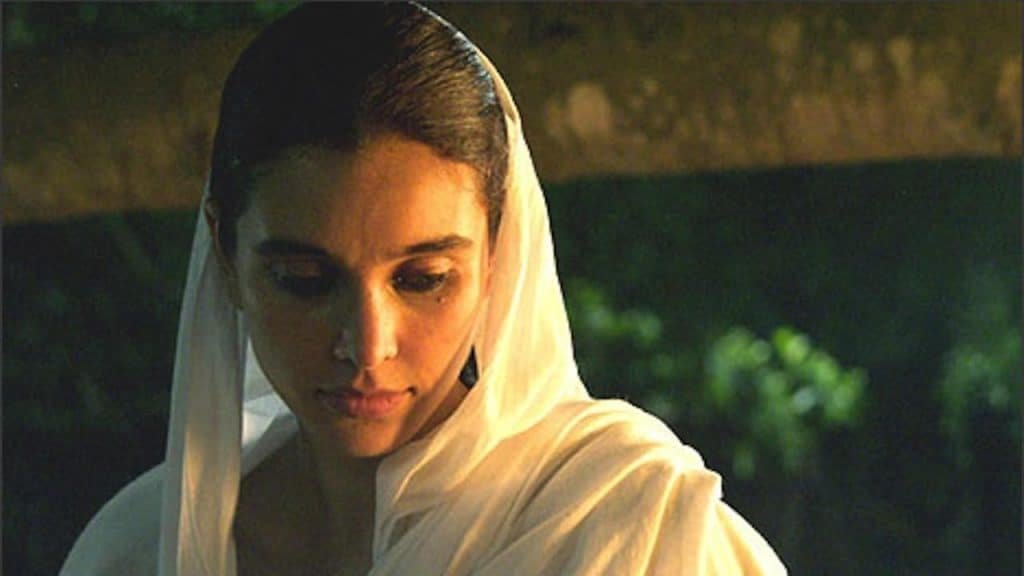 Water (2005) is a story of an eight-year-old girl who loses her husband. Set in 1938 when India was still under British occupation and widows were supposed to live their lives in poverty and worship of God. Chuiya (played by Sarala Kariyawasam) is deposited in an ashram with her head shaven. The story establishes, and more characters come into light. Water is about the situation of widows in 1930s.
---
Rang De Basanti (2006)
Rang De Basanti (2006) is about a British woman who comes to Delhi to make a documentary out of his grandfather's diary notes. Her grandfather was a police officer in India during the 1920s. She meets a bunch of young guys who becomes the cast of her movie. When a friend of theirs dies in an accident, they become activists. The film is directed by Rakeysh Omprakash Mehra.
---
Do Dooni Chaar (2010)
Do Dooni Chaar (2010) is a story about a lower middle-class family man Santosh Duggal (played by Rishi Kapoor) who lives in a DDA flat in Lajpat Nagar. Duggal works as a school teacher and is fighting a constant battle with inflation. Habib Faisal (director) takes us through a journey of chaos. The family gets a wedding invitation, and Mrs. Duggal (played by Neetu Kapoor) insists her husband to buy a car to go to the wedding. A teenage daughter and a fast track son back their mother about buying a new car. Mr. Duggal who is coping with his single digit increment in his salary wants to fulfill his family's dream. Do Dooni Chaar beautifully shows the constant battle lower middle-class family fights every day.
---
These are the 5+ Indian movies which will tell you a little bit more about India. There are few other movies made about India like Gandhi (1982), Jodha Akbar (2008), Train to Pakistan (2008), etc. Do let us know your favorite movies about India in the comment section below. You can join our group on Facebook for cinema-related discussions.
The following two tabs change content below.
Aakash Rohilla
I am a simple guy who loves cinema. You can call me a film buff. I like travelling to calm places. Avid Reader, Explorer and Blogger. I write about cinema and tech.
Latest posts by Aakash Rohilla (see all)